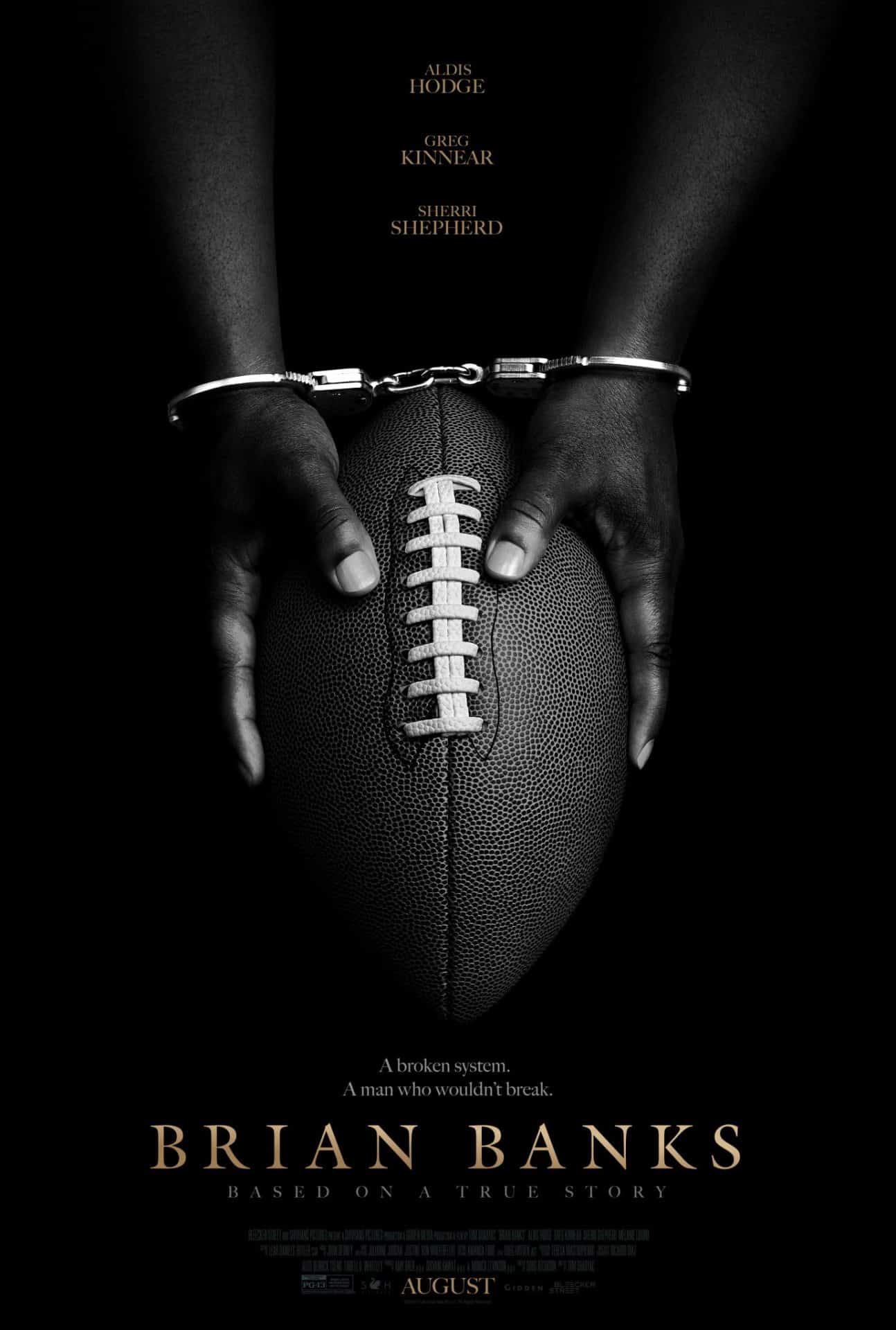 Starring

Aldis Hodge, Greg Kinnear, Melanie Liburd

Writer

Doug Atchison

Director

Tom Shadyac

Rating

PG-13 (United States)

Running Time

99 minutes

Release Date

August 9th, 2019
Rating Summary
Brian Banks may be a poignant film, but, with so many other riveting biopics out there currently, this one isn't quite a memorable "must see" in theaters. Just wait for this to come out as a rental.
Brian Banks follow Brian Banks (Hodge), a promising high school linebacker with the potential to make a professional career in the NFL. However, everything would change after Banks is falsely accused of sexual assault by another student in the summer of 2002. Despite having plenty of evidence proving his innocence, Banks is advised to take a plea deal and assured that it won't involve jail time. Unfortunately, he would be sentenced to five years in prison and five years of probation thus ensuring that his dream of playing football was over. Upon completing his sentence, a frustrated Banks, reaches out to the California Innocence Project, and Justin Brooks (Kinnear), in the hopes that they will help him overturn the charges against him and give him back his life.
Brian Banks does do a good job is showcasing how flawed the US justice system is. Its social commentary speaks volumes and its clear from Banks's story that this problem certainly needs to be addressed. However, the main problem with the film was the somewhat heavy-handiness of its narrative and its uneven script. No one can ever doubt that what befell Banks was horrible, but the gravity of this never fully comes across through the film's use of voice overs and heavy expositional scenes. While these aren't necessarily a bad thing, they lacked enough depth to fully connect with the story.
While Brian's story is definitely intriguing and offers up an inspirational tale, Brian Banks needed to be more cinematic than what was presented as the film felt more like a TV movie. Granted, the real story might have been dramatic enough, but its pretty obvious a few scenes may have been slightly embellished to make it more befitting of a motion picture.
Brian Banks may be undeveloped but the main cast is effectively great with Hodge giving a solid performance as Banks. Hodge, not a household name, does a terrific job in the role, projecting enough relatability, humanity, and raw emotional talent to make his portrayal of Banks wholesome and easy to root for. Likewise, Kinnear is a comforting and stable reassurance as Brooks, the character who Brian seeks out to help him dismiss his case. Kinnear acts as the veteran actor role and certainly fits the bill as well as actor Morgan Freeman, who plays a vital role in Bank's mental transformation in prison. However, unlike Kinnear's Brooks, Freeman's character gets shortchanged and acts as more of a mystified figure than a concrete pillar of Brian's motivations, which is kind of disappointing.
In the end, Brian Banks is a wholesome and inspirational story of never giving up on a man's pursuit for the truth. And yet (at the same time), the film never truly rises to being spectacular; offering a TV movie feel that lacks a cinematic punch. The story being told is interesting and the acting is good, but the feature never excels beyond standard biopic fare.
*still courtesy of Bleecker Street*
---
I hope you enjoyed my review. If interested, head over to my blog Jason's Movie Blog to read more of my reviews. Also, follow me on Facebook and on Twitter @jasonmoviesblog
If you liked this, please read our other reviews here and don't forget to follow us on Twitter or Instagram or like us on Facebook.