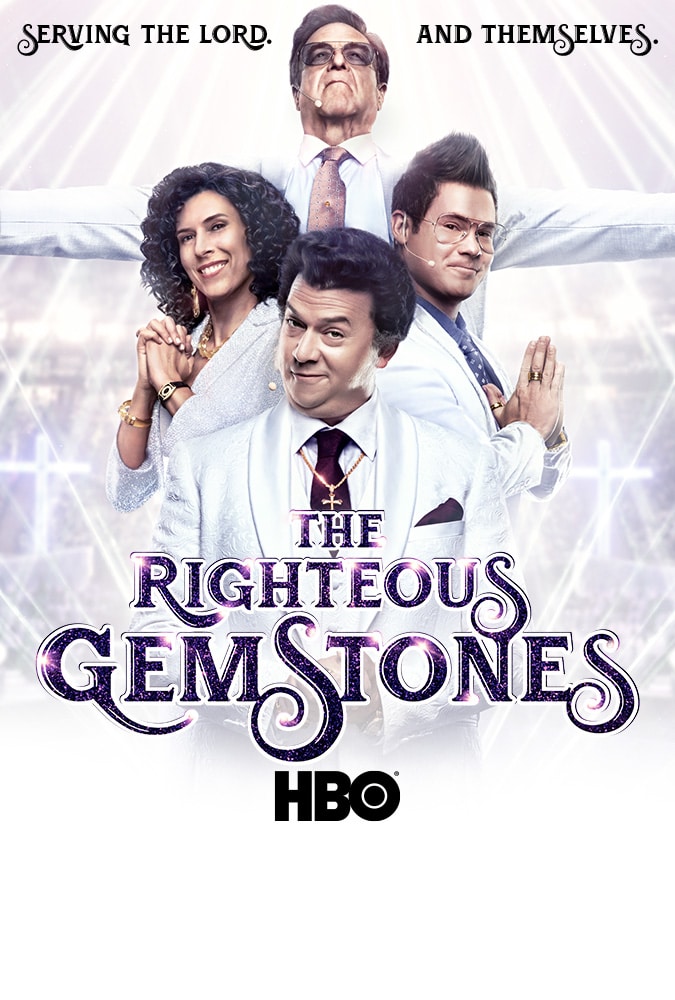 Director

David Gordon Green

Writers

Danny McBride, Jeff Fradley, John Carcieri

Rating

TV-MA

Running Time

36 minutes

Airs

Sundays 10pm

Channel

HBO, HBO Canada
Rating Summary
In one of the best episodes of The Righteous Gemstones, Interlude tried to use empathy to help us understand its characters.
For our review of the last episode of The Righteous Gemstones, click here.
Synopsis: In 1989, young Jesse, Judy and Baby Billy each deal with the news that Aimee-Leigh is pregnant in their own unique way, while Eli looks to grow his family's prospects. (HBO)
Now that the first half of the season is behind us, The Righteous Gemstones chooses to change the narrative completely by jumping back to 1989 as Aimee-Leigh Gemstone is expecting her third child (soon to be Kelvin).
Interlude cleverly builds off of the audience's knowledge of its present characters by showing us the moments just before the Gemstones go from a business to an empire. Jesse (Gaven Wilde) and Judy's (Emma Shannon) childhood personalities are right in line as who they are as adults and Eli seems happier and more fulfilled with Aimee-Leigh by his side. But the main antagonist of the episode is not the unborn Kelvin but Baby Billy Freeman, who appears as the deadbeat moocher we have all assumed he was towards the Gemstone family, more specifically, his sister.
As expected, Baby Billy is short on cash after three divorces have left him deeply in debt. In hopes of making money, he attempts to coax Aimee-Leigh back on the road for a tour of their old childhood singing duo but is turned down because of her pregnancy. Billy proceeds to only be thinking about himself and begins to systematically tear down the Gemstone family from within – first targeting Judy, then Jesse and finally Aimee-Leigh which eventually brings Aimee-Leigh to concede to the tour to prevent Billy from selling pieces of their childhood home.
Baby Billy's plan comes to a screeching halt when it is discovered that Billy has already sold off pieces of the family land well before he even approached Aimee-Leigh about the reunion tour which causes Aimee-Leigh to cancel everything leaving Eli to establish a new level of understanding between the two from this point forward.
At first, Interlude starts to resemble the portion of world-build that seeks to show the audience just how alone Eli is without his wife by his side, but as the episode winds on, it quickly changes tone instead focusing on how Aimee-Leigh was the last defense of all outside evil attempting to attack the Gemstone family, including those from within.
What made Interlude one of the series' best was its intelligent use of empathy towards all of its characters by playing out their lives in reverse – first allowing you to feel repulsion and anger towards the family siblings and then showing you the "how" and "why" they ended up they way they have. Afterward, you almost feel sorry for them and the state they currently find their lives, even despite all of the bad decisions Jesse, Judy and Kelvin have made. Do they deserve what is most likely coming to them? Sure.
After Interlude, there is a small part of this reviewer wanting them to somehow find redemption in order to honor the late Aimee-Leigh.
Gem of the episode: TIE between 1) Judy's air horn for bad gifts   2) Walter Goggins clogging aka "Walter Cloggins" (you are welcome)
---
If you liked this, please read our other reviews here and don't forget to follow us on Twitter, follow us on Instagram, and also like us on Facebook.