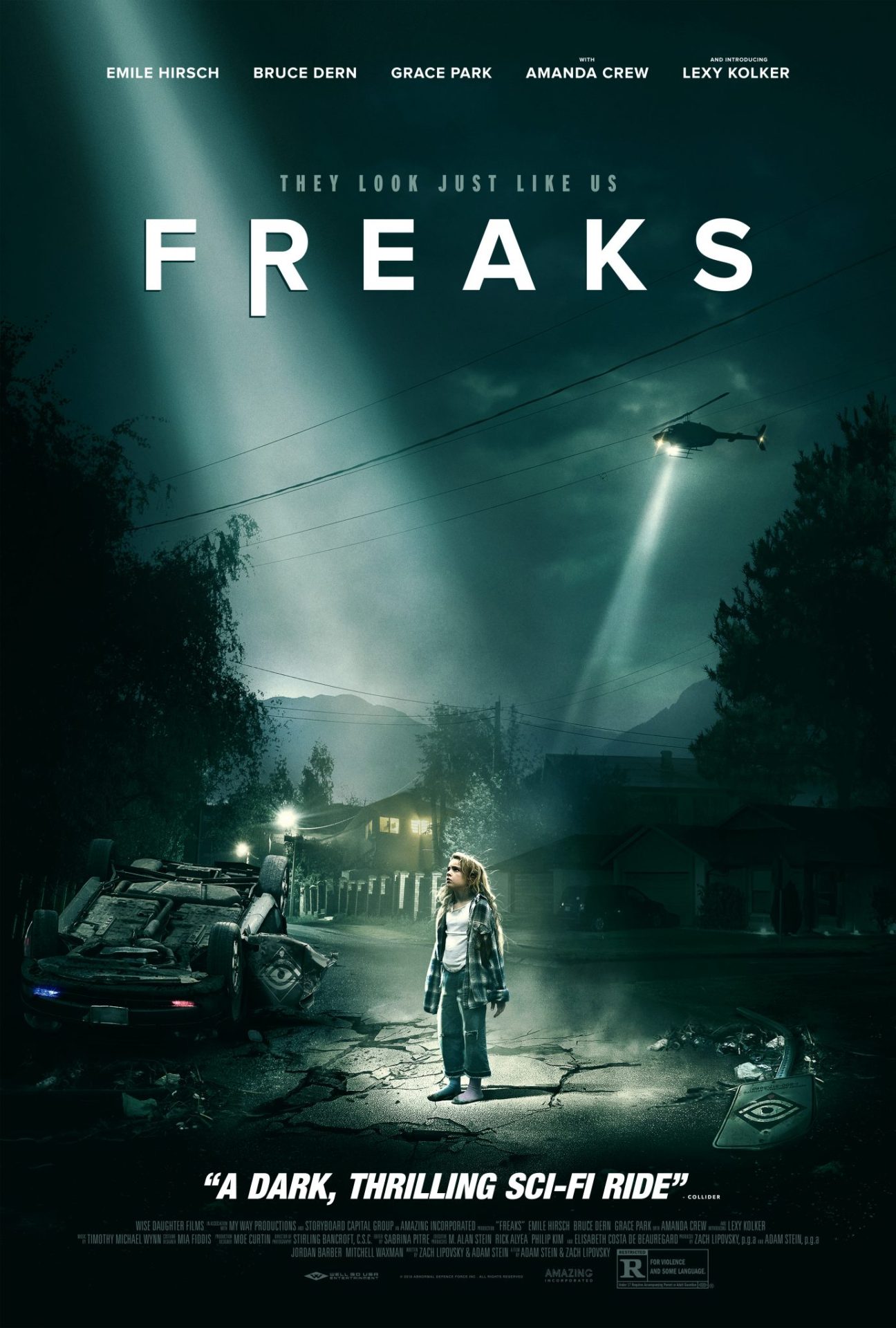 Starring

Emile Hirsch, Bruce Dern, Lexi Kolker

Writers

Zach Lipovsky, Adam B. Stein

Directors

Zach Lipovsky, Adam B. Stein

Rating

14A (Canada), R (United States)

Running Time

105 minutes

Release Date

September 13th, 2019
Rating Summary
Freaks is a decent yet overly-ambitious albeit convoluted low-budget sci-fi film that doesn't quite work and is ultimately weighed down by mediocre material.
While it may not all work, Freaks, a low budget sci-fi indie film should still be applauded for what it ultimately tried to do. It's definitely ambitious but simply tries to do too much. However, in order to fully enjoy the film, it would be best to go into it as blindly as possible. The film features plenty of twists and turns along the way that don't all necessarily work though in the end were still somewhat entertaining to watch in spite of that. It's also hard to talk about without giving too much away but it is easy to see all the recent sci-fi stories inspired it. On the other side, the film was arguably incredibly derivative as well.
Freaks followed a young girl named Chloe (Kolker) and her father (Hirsch). The two lived a highly-sheltered life due to Chloe's father's over-protective nature and paranoia of the world outside. They were fine living together while Chloe went along with her father's beliefs but it was clear that this was not going to last forever, especially with no mother in the picture. Despite her father's intentions, she became increasingly curious of what was outside their home and there was very little he could do to stop her. Meanwhile, the reason why Chloe's father was so paranoid was a mystery. Was he right or was he just making it all up? This answer would obviously be revealed, however, the film took a little too long to get there. Counterbalancing this was Chloe's child-like curiosity for which the film failed to tap into enough.
The major problem with Freaks came at the point when the story started to expand. The father-daughter relationship was relatively simple but the more things began to unravel, the less sense it would make and the more convoluted it became. This made it easy to tune out or care about whatever happened from that point on because it was so hard to follow. Along with the inconsistent pacing and the lack of character development, the film was a chore to watch and will also make it feel longer than it actually was. Meanwhile, this was a low budget film therefore experienced some of the pitfalls that came from this, however, the special effects did not suffer too much because of it.
Freaks' script may be mediocre, however, the acting did not suffer as a result. While it was tough to get behind the films' shallow characters, the acting was okay across the board. Hirsch wasn't the most believable as the father but he still did the best with what he had. Dern didn't do all that much either as Mr. Snowcone, sleepwalking through his performance. The most notable performance of the film had to be Kolker as Chloe. She definitely brought some of her youthful energy to Chloe and was somewhat fun to watch. With the story depending so much on her, she certainly did not disappoint. It was just a shame that she didn't have more to do.
At the end of the day, Freaks is an ambitious film that may not all work on a narrative level but is still a decent time to be had.
*still courtesy of Well Go USA*
---
If you liked this, please read our other reviews here and don't forget to follow us on Twitter or Instagram or like us on Facebook.