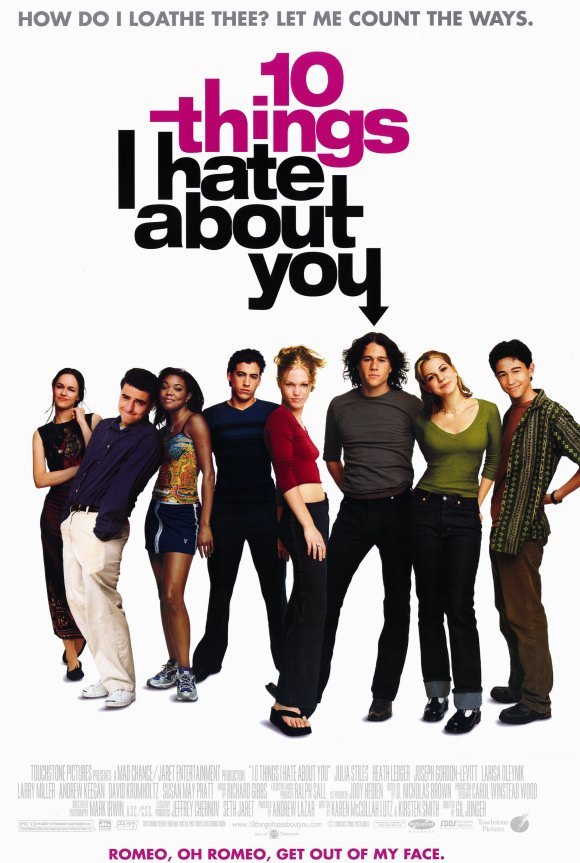 Starring

Heath Ledger, Julia Stiles, Joseph Gordon-Levitt

Writers

Karen McCullah, Kirsten Smith

Director

Gil Junger

Rating

PG-13 (United States)

Running Time

97 minutes
Rating Summary
10 Things I Hate About You is one of the best teen movies ever made with a great cast and soundtrack, a cult classic in the ilk of The Breakfast Club.
10 Things I Hate About You follows Cameron (Levitt), a teen who moves to a new school and instantly falls in love with Bianca (Larisa Oleynik), one of the popular girls in school. Bianca doesn't pay much attention to him because she has eyes for Joey (Andrew Keegan), an arrogant prick who sees himself as a ladies man and rules the school, bullying Cameron and his friend Michael (David Krumholtz) every chance he gets. But it doesn't really matter whom Bianca wants to date; her father, Walter (Larry Miller) doesn't want to hear about his younger daughter dating anybody, so he comes up with a rule: Bianca can date as long as her older sister Kat (Styles) dates too.
It wouldn't be a problem if Kat weren't such an irascible person who drives people away just as she walks into a room. So Cameron and Michael come up with a plan: they convince Joey to pay Patrick (Ledger) to take Kat out, telling Joey that would clear the field for him but instead Cameron uses that to actually go after Bianca, blindsiding Joey. Kat initially ignores Patrick's advancements, but in time they bond and fall for each other.
It's hard to believe it's been 20 years since 10 Things I Hate About You came was first released. The film instantly became a cult classic, becoming the 90's version of The Breakfast Club. It was everything a teen movie needed to be and more. If you were one at the time (like I was) you probably new some of the lines by heart and the soundtrack played on a loop inside your disc-man.
Teen films come and go without much thought. There are so many of them it's hard to keep track, and it's even harder for them to be any good. So when a movie like 10 Things I Hate About You comes along, you take notice. There's nothing really showy about this film, nothing that would make one instantly point it out as a classic. And that's one of the best aspects of this one: it's totally understated and unpretentious. It trusts its story and its characters and lets them both charm us in. And they do it beautifully.
Inspired by Shakespeare's The Taming of the Shrew, 10 Things I Hate About You's story is a true ensemble piece, and most of the characters have multiples chances to shine and show different layers. And they all change in the course of the film without loosing who they were in the beginning, making their evolution feel natural and subtle.
Bianca is the princess of the school; she likes her popularity and wants to have it all. She starts somewhat oblivious, but when confronted by the truth and by what it meant to look away from what those around her are doing, she chooses to become a better person; Cameron is a nerd who becomes more confident about himself throughout the story; Michael is also a nerd, and he stops trying to please those who don't really care for him and find people who do. Even the smaller characters have chances to shine, like Chastity (Gabrielle Union) who starts as just the best friend but shows she has more drive (and venom) than she originally revealed.
The entire cast does wonders with their characters; they all work well together, in any combination. There are three standouts here who deserved every praise they got at the time. Ledger was just coming off from Australia, Patrick was his first protagonist and he doesn't disappoint: he gives his character so much charm and wit, it's impossible not to be totally drawn to him. We totally get that Patrick is a lot smarter and more sensitive than he intends people around him to notice, and that he keeps that part of himself to the ones he truly wants to share it with. In most parts of the film it means Kat, but we can also see that a bit in his relationship with Cameron and Michael. It's such a charismatic performance it's understandable that he became a heartthrob instantly.
Miller steals every single scene he appears as Kat and Bianca's father. He is hilarious, his quips and one-liners are wonderfully comedic. He has limited time on screen, but he makes every appearance counts. And he also has one of the tenderest moments in the film, in his conversation with Kat outside their house. It's a very touching moment, done to perfection.
But the real standout of 10 Things I Hate About You has to be Styles; her performance as Kat is perfect from top to bottom. She pulls us into the film and turns Kat into a hypnotically character, someone we want to chit-chat with, one we want by our side as a sister or a friend. And she does it in the most understated of ways. Kat is a showy character but Julia doesn't overdo her, she makes her very grounded and realistic. In a romantic comedy teen film, a combination of over the top genres, Julia manages to turn her protagonist into a very realistic character. Kat feels like a real girl, and that is the best compliment to her performance.
Besides all that, the script has many many funny and entertaining moments. As as the best teen films around, 10 Things I Hate About You's soundtrack is a collection of great songs from the era. What a delicious film.
*still courtesy of Touchstone Pictures*
---
If you like this review, look me up on Instagram for more suggestions.
If you liked this, please read our other reviews here and don't forget to follow us on Twitter or Instagram or like us on Facebook.