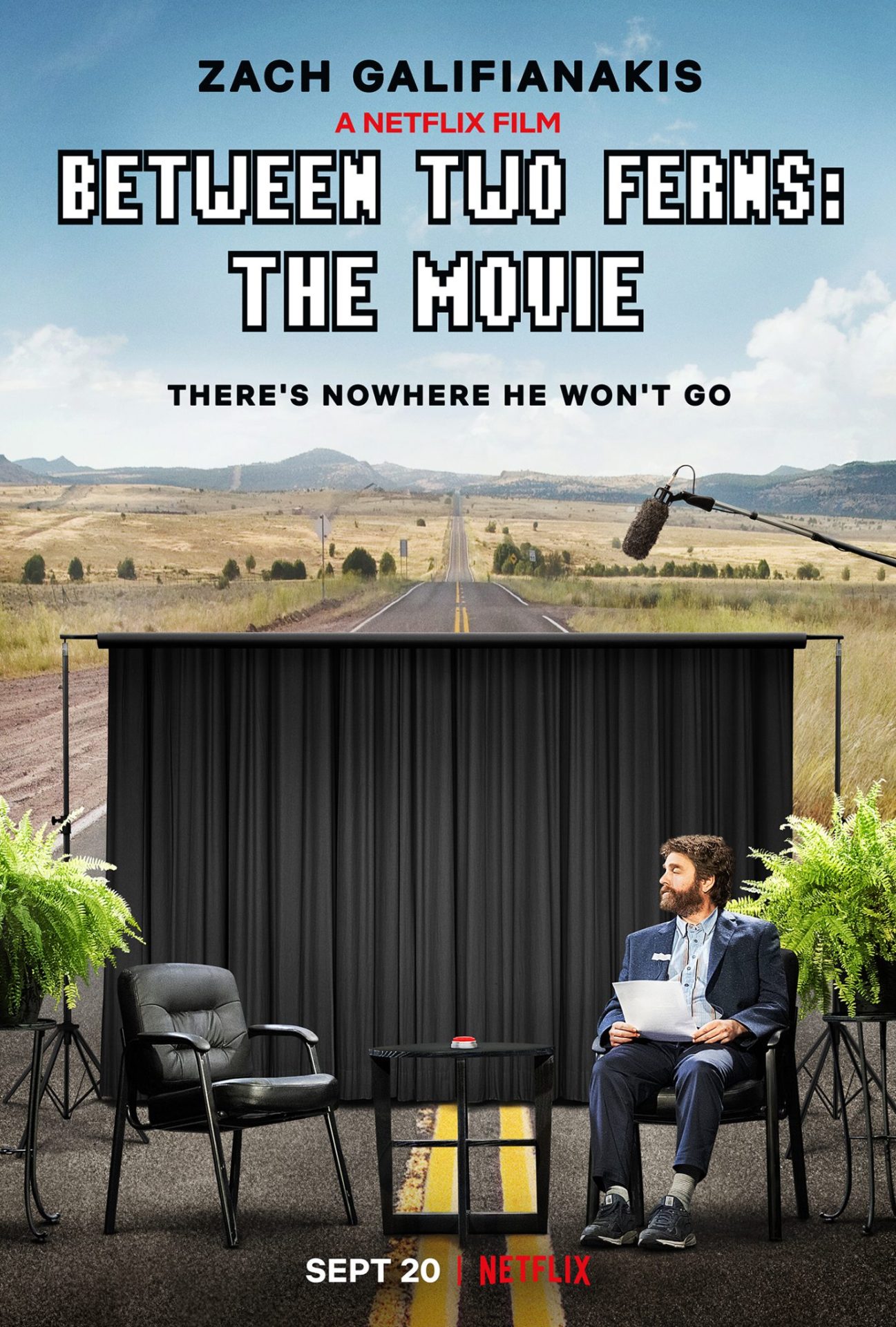 Starring

Zach Galifianakis, Lauren Lapkus, Ryan Gaul

Writer

Scott Aukerman

Director

Scott Aukerman

Rating

TV-MA

Running Time

82 minutes

Release Date

September 20th, 2019 (Netflix)
Rating Summary
Between Two Ferns: The Movie takes the stretches the barely passable premise of the highly-successful online series into what is barely a film.
It's hard to fault Between Two Ferns: The Movie for not being much of a film. Based on the Emmy winning talk show starring Zach Galifianakis, Between Two Ferns has always been the perfect thing to watch on Funny or Die around 3AM when you start to think anything is funny. The cringe humor of its five-minute segments can be decently watchable, but it's easy to run out of patience towards the end of some episodes. This fact makes for an equally awful and amusing idea for a full-length film. Still, with an army of cameos, Will Ferrell doing cocaine, and a consistently annoying documentary crew following its characters, Galifianakis takes to the road to make his film.
Between Two Ferns: The Movie is a mockumentary, recalling the fake history of the hugely popular web series, toying the line between watchable and ridiculous. From his assistant Carol (Lapkus) to the lazy cameraman Cameron (Gaul), we get a run-down of Galifianakis' private access channel studio. After Galifianakis accidentally kills Matthew McConaughey, Funny or Die head honcho Will Ferrell comes down to the studio and tells Galifianakis that he needs to make ten new episodes of Between Two Ferns, or else. In exchange, Galifianakis asks for a late-night talk show for the rest of time if he completes the task for which he agrees. To find celebrities, Galifianakis and the cast and crew take Between Two Ferns on the road.
"Your son's name is Harry; did you name him after your face?" asks Galifanakis to David Letterman. It's a great example of what makes the series semi-entertaining, and each of the barbs are individually entertaining, but there's nothing cohesive holding the film together. It's a string of interviews that hold the same power of a bunch of them pushed together. There are some great moments: John Legend spraying mace on Galifanakis' penis due to Zach having sex with Chrissy Teigen, right after Teigen makes a Richard Kelly's The Box reference. Jon Hamm gets continuously asked about what he'd do if he wasn't attractive, and Paul Rudd gets asked about his charity, which Galifianakis insists is named Kids without Boners.
With Between Two Ferns: The Movie, Galifanakis frames the entire thing with a deadpan self-seriousness that keeps it from breaking at the seams. His demeanor perfectly conveys that surreal drabness, talking in a gravelly voice with that fluffy beard. A winning moment is when he makes fun of Letterman's beard, when his facial hair looks equally as ridiculous. Each of the cameos offers different and amusing bits, but none of them stick out too strongly. At the same time, there's nothing particularly captivating about Galifanakis' character, a fictionalized and absurd version of himself.
In the end, Between Two Ferns: The Movie sees Galifiankis' man-childness is more captivating in interview length segments, and sometimes those push it. Imagine those interviews being stretched out for a feature length film.
*still courtesy of Netflix*
---
If you liked this, you can find me on Twitter at @selfseriousness.
If you liked this, please read our other reviews here and don't forget to follow us on Twitter or Instagram or like us on Facebook.