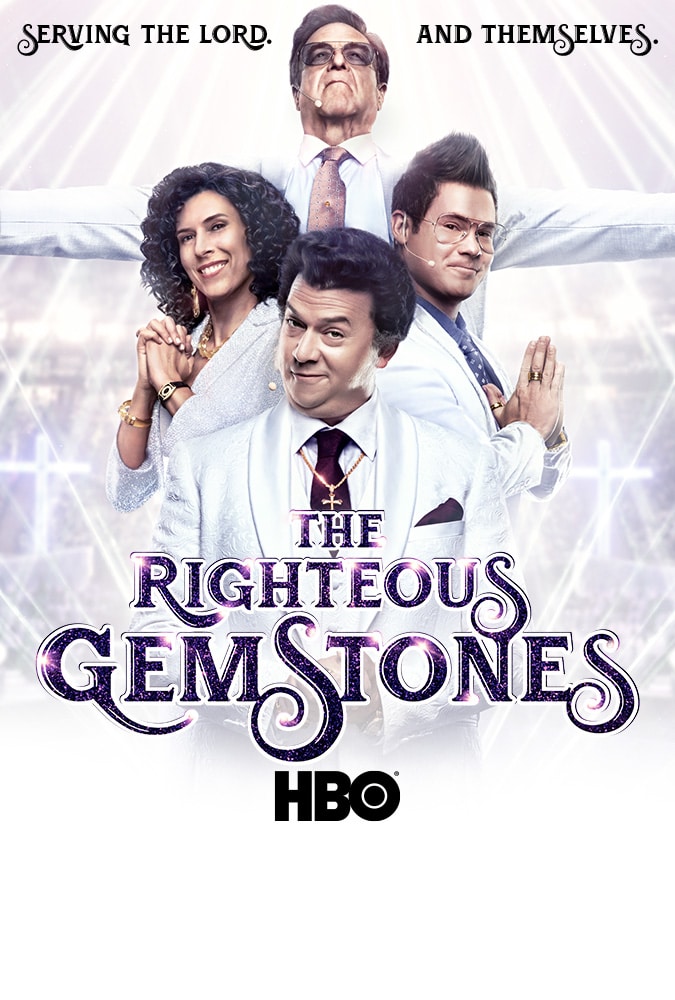 Director

Jody Hill

Writers

Danny McBride, Jeff Fradley, John Carcieri

Rating

TV-MA

Running Time

50 minutes

Airs

Sundays 10pm

Channel

HBO, HBO Canada
Rating Summary
Better is the End of a Thing Than Its Beginning was an entertaining season finale that saw each of its characters find personal growth in a satisfying way.
For our review of the last episode of The Righteous Gemstones, click here.
Synopsis: Eli questions his children's future in the Gemstone ministry. Jesse struggles to keep his marriage together. Judy opens upto BJ about her past. A disillusioned Kelvin embraces his dark side. (HBO)
"Do you wanna make things better, or just wanna make the bad stuff go away?"
This is the question that permeates through the entire season finale, entitled Better is the End of a Thing Than Its Beginning, as we see Jesse's world continue to crumble, Kelvin has a crisis of faith and Judy search for what kind of person she actually is in this world. All of their past transgressions reach a breaking point as Eli finally learns the full truth of what was at stake throughout this entire season. This leads him to make the decision to fire his children from the church causing them to figure out what their next move might be.
Amber has issued an ultimatum to Jesse – Bring Gideon back from his mission of penance in Haiti or don't come back at all. Jesse attempts to do so but to no avail as Gideon states that he will remain there until his debt is paid off. He is the one who poses the question to his father that opened this article when he sees that Jesse is only trying to bring him back to save himself and not make the situation he destroyed better.
Kelvin's crisis of faith leads him to transform into something…dark(ish), but only for a moment as he discovers that Keith, without anyone to turn to for guidance, has backslid into a pit of despair that only he can rescue him. This also serves as the needed catalyst to bring Kelvin back from the brink. Judy also undergoes a personal transformation as she and BJ grow closer together after a heart to heart at Outback Steakhouse which urges BJ to break into the Gemstone compound and conduct his own version of the iconic boombox scene from "Say Anything." (BJ is quietly making a run at season MVP)
As the trio tries to make sense of recent events, they discover that Baby Billy and Tiffany were in the car that crashed with Scotty's van as well as the new owner of the Gemstone Easter fortune. The Gemstones go to Freeman's Gap, home of Aimee Leigh and Baby Billy, to get their money back only to have a massive family showdown that leads to Billy being struck by lightning and being transformed into a new man full of forgiveness.
Baby Billy's life isn't the only one that is changed as the Gemstone family experiences positive growth each in their own way closing the show's first chapter in a satisfying way while also leaving opportunities for a second season to build upon.
In the end, this series has been a surprise hit that has consistently provided some of the best laughs on TV in 2019. What began as a typical affair from Danny McBride and Jody Hill, has quietly been putting together a strong run of episodes that is arguably the duo's best work. On its surface, The Righteous Gemstones seems like a story about an entitled family at the front of an Evangelistic empire, but upon closer inspection, its focus is on flawed people that are at the personal moral crossroads and explores whether or not the concept of redemption is real and if so, can its characters find it.
For the parts of the series that are familiar for fans of McBride's work, The Righteous Gemstones manages to deliver one of the most entertaining experiences of 2019. It's a comedy must-watch that many will enjoy from start to finish.
GEMS OF THE EPISODE:
BJ saying "G'dday" in an Australian accent = priceless
The bee in Aimee Leigh's room
Keith transforming into the baby
Judy's recounting of her first time with her Economics professor
---
If you liked this, please read our other reviews here and don't forget to follow us on Twitter, follow us on Instagram, and also like us on Facebook.