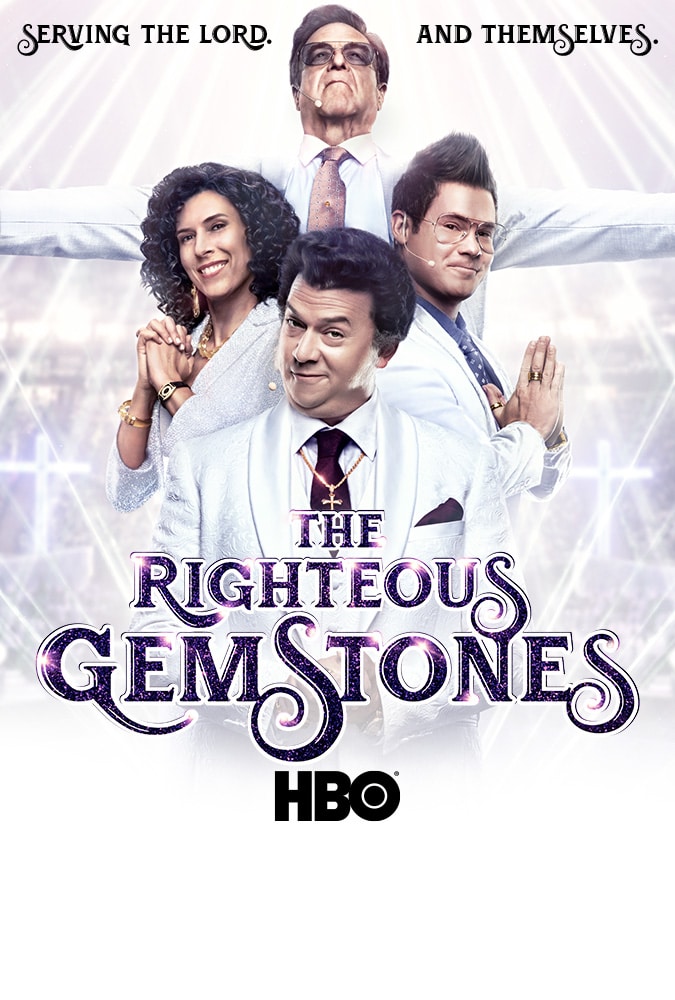 Director

David Gordon Green

Writers

Danny McBride, Kevin Barnett, Chris Pappas

Rating

TV-MA

Running Time

33 minutes

Airs

Sundays 10pm

Channel

HBO, HBO Canada
Rating Summary
But the Righteous Will See Their Fall saw the Gemstones come to terms with their suddenly crumbling empire while giving birth to an evangelical Bonnie & Clyde.
For our review of the last episode of The Righteous Gemstones, click here.
Synopsis: Jesse deals with the fallout of the dramatic events of Easter Sunday. Judy attempts to win back BJ after receiving some harsh words from Baby Billy. Kelvin has a crisis of faith. (HBO)
When we last left the Gemstones, Jesse and Gideon were locked inside the Gemstone vault while Scotty was able to get away with over $3 million of the family money. But the damage that was suffered far exceeded the financial loss as the ties that bound the family together begin to fray beyond repair.
After a profitable Easter Sunday service, Baby Billy and Tiffany are making their way home while enjoying some automotive foreplay when they come crashing to a literal halt after colliding with Scotty's runaway van. The duo discovers why he was in a hurry to escape and relieve him of his burden by stealing from him what he has managed to take from the Gemstones. Baby Billy and Tiffany scramble to cover their tracks as they stage Scotty's suicide and disperse of his vehicle in a nearby swamp thinking that it will be swallowed up once high tide occurs. Their miscalculation of this leads to the visibility of the van from the road and the eventual discovery of it by the police.
Meanwhile, Judy and Kelvin are forced to individually face conflicts surrounding their most recent life changes. BJ's breakup with Judy as she favored her career over their future has left a void that she is seeking to repair, however, BJ rebuffs any advance made by her as he is wanting to spend time on himself. This point is hammered home to Judy by BJ's new earring and "edgy" demeanor. Kelvin's suffering is more on a spiritual level that leads him to kick Keith out of his house as he feels unfit to lead him any longer.
As Gideon is faced with confessing his true intentions towards returning home, he remains silent as to his motivations when pressed by his mother which leads Amber to kick him out of their house for good. What follows is a tender moment between father and son as Jesse finally sees the error of his ways and apologizes for all of his failures with Gideon as his father. Jesse moves further towards total penance as he gathers his gang and their significant others (except Levi) together in order to come clean on all that they have done. All of the crew's wives react as expected as Jesse plays the video used in the blackmail scheme for them while providing an interesting play-by-play. But it's Amber who reacts most appropriately given all of the lies she has been witness to from Jesse leading her to shoot a fleeing Jesse in the buttocks leaving him to think about what he's done.
As next week brings the season finale, The Righteous Gemstones looks to cap off an incredible first season with the conclusion of the family drama that has plagued Jesse, Kelvin and Judy. Scotty is now dead but their money is still missing which forces Eli Gemstone to handle the search for it internally as not to attract the attention of the authorities. With the discovery of Scotty's van, it looks like all signs will soon be pointed towards Baby Billy and Tiffany, who look to become the Evangelical equivalent of Bonnie & Clyde.
GEMS OF THE EPISODE:
* "Crazy 8 the prostate" – Baby Billy to Tiffany
---
If you liked this, please read our other reviews here and don't forget to follow us on Twitter, follow us on Instagram, and also like us on Facebook.