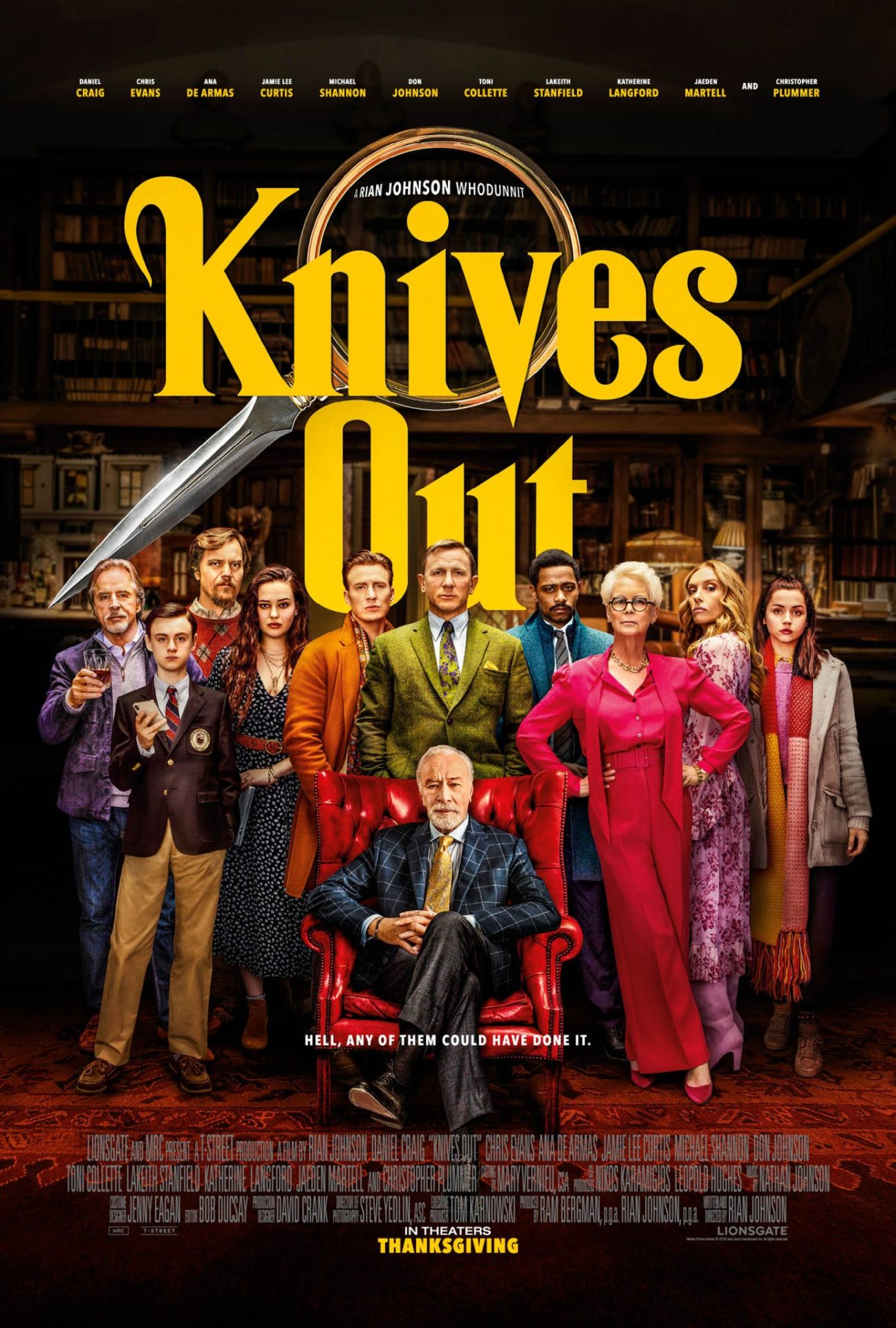 Starring

Daniel Craig, Chris Evans, Anna de Armas

Writer

Rian Johnson

Director

Rian Johnson

Rating

PG (Canada), PG-13 (United States)

Running Time

130 minutes

Release Date

November 27th, 2019
Rating Summary
Knives Out is an excellent mystery dramedy and one of the most entertaining experiences of the year thanks to a sharp script and terrific performances.
For our capsule review of Knives Out from this year's Toronto International Film Festival, click here.
True whodunnits are definitely a dying breed. Thanks to writer/director Rian Johnson, this looks to change in a big way thanks to the star-studded Knives Out. Ever since making its world premiere at this year's TIFF, the film has made a big splash thanks to its cast and rightfully so, however, its the imagination behind it that is just as if not more worthy of that praise. Early on, it's easy to see the inspirations behind it from classic Agatha Christie murder mysteries to straight-up Hitchcock. The film's atmosphere grabs audiences and does not let them go, from its cinematography and production design to its plucky score. Things may get tense and suspenseful at times but the script balances that as well as hilarious humor along with that atmosphere beautifully.
Knives Out of course is a murder mystery film with an eccentric family at its center. The Thrombeys were a diverse set of characters that came into prominence off of the success of their patriarch, famous mystery author Harlan Thrombey (Christopher Plummer). The morning after a party for his 85th birthday saw Harlan found dead from an apparent suicide but what is really a suicide? Over the course of the film, it became clear that this was probably not the case as many family members may or may not have had ample motive for murdering Harlan. Figuring out the truth behind this mystery would be easier said than done. On the case was famed private investigator Benoit Blanc (Craig) whose investigatory methods would ruffle a few feathers along the way.
As the mystery unfolded while Blanc continued to pry into their lives and learn the truth about what happened around the time of the party, Knives Out would literally see knives come out as the true nature of the Thrombeys and their true intentions finally came out. Most of the fun of the film would come from seeing all these different personalities clash with one another (they already did not get along of course). The Thrombeys were surprisingly complex characters who each got a chance to shine for the most part (some more than others but that's just the nature of big casts). The ultimate truth would of course not be as straightforward as it seemed as the film went about it in a thrilling and often hilarious way. Blanc's investigation was exciting to watch over its many unexpected twists and turns that will keep audiences on the edge of their seats if only for not knowing what he or the other characters were going to do.
One of the most interesting parts of Knives Out was the juxtaposition between the Thrombeys and Harlan's personal nurse named, a working-class immigrant named Marta Cabrera (de Armas) who should arguably be the main character of the film. She was absolutely nothing like the Thrombeys in that she was not rich but most importantly, had nowhere near the ego. As a character, Cabrera was us, offering a different yet relatable perspective as she navigated through the madness and dysfunction in order to provide for her family. Despite this, she still had a stake in the murder investigation and the role that she would play in it as well as its impact on her as a character was compelling and emotional to watch, maybe even more so than the actual murder investigation itself.
The best part of Knives Out was its excellent performances from its all-star cast and their excellent chemistry, however, they would not have shined nearly as strong if not for the equally excellent script full of sharp dialog. Craig as the eccentric Blanc ties it all together with a scene-stealing performance aided by his timing and particular Southern accent. Evans as Ransom Drysdale (Harlan's grandson) looks to be having a blast in a much different role than we are accustomed to, gleefully telling everyone to "Eat Shit". As mentioned, de Armas was the real star here with a heartbreaking performance as the de facto moral center who would unfairly be put through the ringer (taking it in stride). In the end, everyone was at the top of their collective games and were all fun to watch. With a big cast, some may not get as much screen time as the others but they certainly made impressions with what time they had.
At the end of the day, this homage to classic whodunnits is a pure blast from start to finish, firing on all cylinders while led by an adept eye.
*still courtesy of Lionsgate*
---
If you liked this, please read our other reviews here and don't forget to follow us on Twitter or Instagram or like us on Facebook.