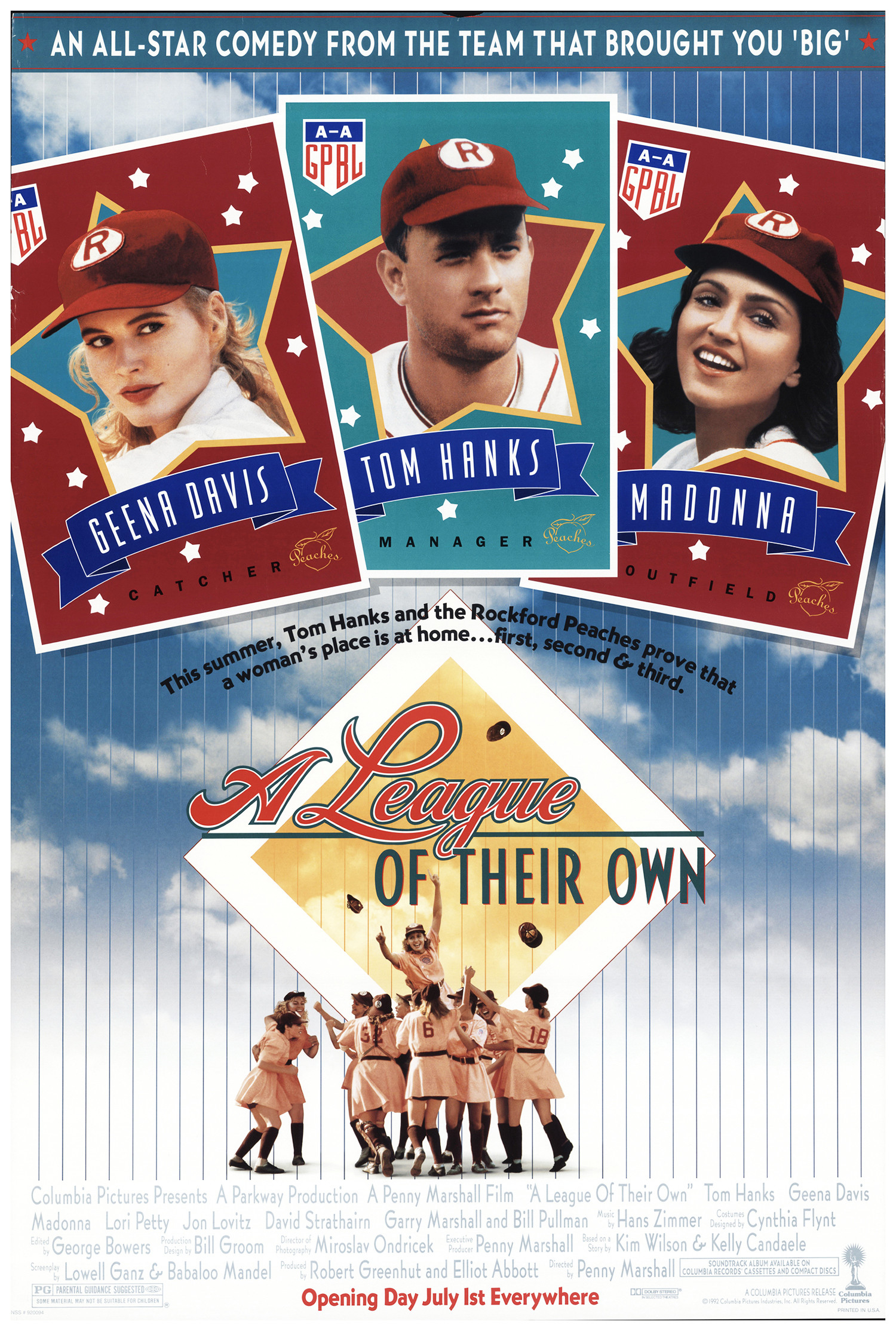 Starring

Tom Hanks, Geena Davis, Lori Petty

Writers

Lowell Ganz, Babaloo Mandel

Director

Penny Marshall

Rating

PG

Running Time

128 minutes
Rating Summary
A League of Their Own is one of the best sports movies ever made, featuring plenty of humor, heart, and memorable characters.
A League of Their Own is one of the best sports movies ever made. It just is. Marshall manages to create a perfect "little" film, one that ended up making $107 million at the US box office, a magnificent feat in 1992. Terminator 2, a much bigger, more expensive and ambitious film made $204 million one year prior. She puts together a film that is exciting as any sports movie should be, but with plenty of humor and a heart. It's impossible not to shed some tears by the end of the run.
A League of Their Own follows Dottie (Davis) and Kit (Petty), two sisters from Oregon who are invited to participate in the first women baseball league in the 1940's, temporarily replacing the men who were fighting World War II. They go to Chicago and Dottie becomes the star of the league, making Kit jealous and more insecure about her own abilities. Their team is trained by Jimmy (Hanks) a former player who drinks more than he should and hates coaching a female team. This new league would prove unpopular at first but in time its popularity grew thus driving Dottie and Kit further apart.
That happens because the script brings a lot to the table as the entire team managed to successfully translate the words on screen. It's interesting to analyze how the script has so many little details, so many insights that only enhance our experience. In a way, A League of Their Own is very lighthearted and joyful, and because of that we might not realize how it so exquisitely it brings more serious material to the story.
With A League of Their Own, you have a great love-hate relationship between two sisters. Dottie is the star, not only in the league but also back home. She was always the example, the perfect daughter, the perfect woman. And now she is the perfect baseball player. Standing in her shadow is no easy feat and it would be hard to anyone to try and match that. Kit's angst and conflicting nature is totally relatable to us, we understand exactly how she feels, especially because Petty does a fantastic job in turning Kit into a complex human being. Sometimes Kit comes off as a little annoying, but Petty shows so much vulnerability to her character she always brings us back to her corner.
Dottie only goes to the league because her husband in fighting the war. She would never go down that road if he was home, and she makes it very clear from the start that she'll go back to him as soon as he comes home. So Dottie is perfectly happy with just being the wife? Maybe. Or maybe not. The brilliance of Dottie is that Davis gives her an air of mystery, we never know all that is going through her head. She shares only what she wants, but there's a part of Dottie we'll never know unless she wants to share it (and she doesn't). SPOILER ALERT: That's why her dropping the ball in the end of the last game is such a winning moment. We will never know if she did it on purpose or not, and that happens because the character was constructed in such a way that both options are totally plausible.
Dottie is very strong willed and centered, at that time, meant for her going back to just being the wife. But there are glimpses in the performance that shows us that although Dottie is sure of her choice, she also knows she would be happy in the league. The best part of this was how Davis doesn't play her as a victim; Dottie is doing exactly what she wants to do, she doesn't care what any of us think about her choice or if we think it's the wrong one. It's her choice to make, her decision, and no one else. She's very aware of what's at stake and she makes her decision accordingly. Dottie also has a very soft side, and it constantly shows during the run of the film, especially in her scenes with sister Kit. She's quite a well-drawn character.
Then there's Jimmy, a talented player who lost everything because of his alcoholism, and he needs to find his feet again training the women. In the beginning he's very blunt of his disdain of it all but he manages to pull himself up and become a true leader to that group. He lost his career and his dream because of his drinking, and he'll never be able to relive those moments. But he can try to give his team those same happy moments he once had. He who started as a disgusting pig in the beginning, manages to become a more centered character during the run of the film. Those relationships changed him for the better.
A League of Their Own is a comedy, but it also dealt with World War II. Once the audiences becomes totally immersed in the fun of the game, the story brings us back to its premise: why these women are doing what they are doing. In a perfectly constructed scene, an emissary brings a telegram with the condolences of the lost husband of one of the players. It's a chilling moment, one that turns the mood of the film very quickly. In one moment, we are completely relaxed watching the game and as soon as we understand what's happening it's like we are sinking in freezing waters. It's such a powerful moment.
Another one might be the highlight of A League of Their Own: in a very quick scene, an African American woman picks up a ball and throws it back at Dottie. Her pitch is so strong Dottie congratulates her and the woman leaves. It's a small scene, and the most amazing part of it is that it is it almost underplays what it is saying while making it very clear: that although a female league is an advancement, there is still a lot of work to be done.
Most of the female characters in the team enrich A League of Their Own's story, they reflect on the little choices women had at that time, and how heavily judged they were for every single choice they made. Even little angel Stilwell makes a clear point: why can't his father take care of him while his mother works? Again, every line, every little moment in the script enhances the broader picture of how life for women at that time was, and the film ends up making a very strong statement.
But what makes A League of Their Own so great it that it manages to bring up so many hard subjects while remaining constantly funny all the way to the end. There are A LOT of hilarious moments and dialogues, a lot of them courtesy of Hanks, who created such a compelling character to watch. He doesn't waste one line, not a single opportunity to makes us crack. His looks, his lines, the way he moves his body, it's all highly amusing.
Another memorable character was Rosie O'Donnell as Doris Murphy, one the team's players: she grabs all the opportunities she has and doesn't waste a single one of them to make the most of it and we can't help but laugh our asses off. She even gets a bonus point for having such a great chemistry with Madonna here as Mae Mordabito. The entire cast is great, but there is one character that needs to be pointed out: Marla, played by Megan Cavanagh, such a fun character to watch. She starts as a one note joke but very soon in the script she's given more and more, and we fall in love with her, while we laugh hysterically at the same time.
In the end, Marshall creates such a beautifully tailored story, she established such an emotional connection between us and her characters, it is impossible not to shed some tears in the most emotional scenes. When the film ends, we are very proud of these women, even though they are not even real. How fantastic is that?
A League of Their Own is a wonderful little masterpiece. What a delicious film.
*still courtesy of IMDb*
---
If you like this review, look me up on Instagram for more suggestions.
If you liked this, please read our other reviews here and don't forget to follow us on Twitter or Instagram or like us on Facebook.