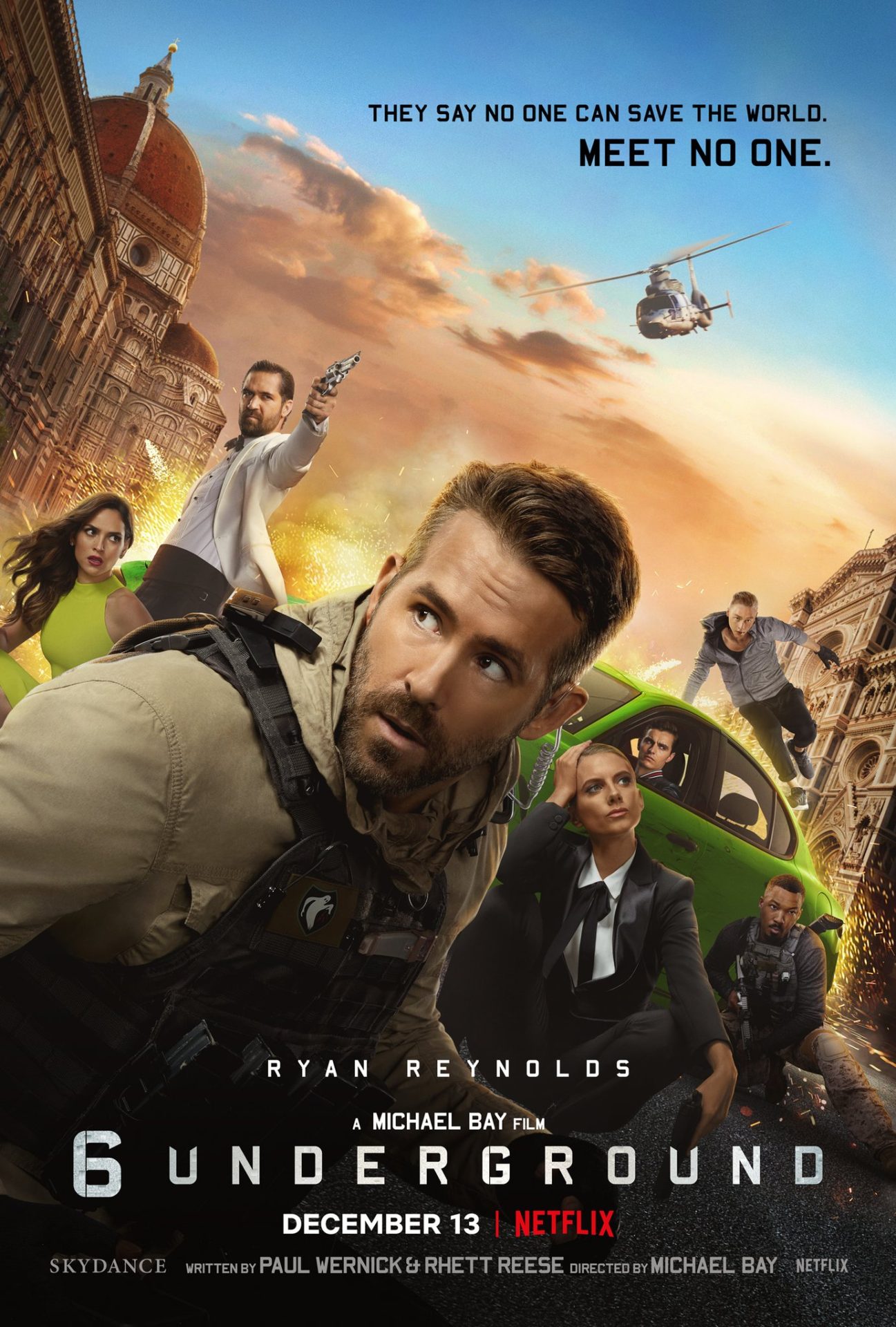 Starring

Ryan Reynolds, Adria Arjona, Mélanie Laurent

Writers

Rhett Reese, Paul Wernick

Director

Michael Bay

Rating

R (United States)

Running Time

127 minutes

Release Date

December 13th, 2019 (Netflix)
Rating Summary
6 Underground is just the worst. Don't watch it. Or do. You're gonna own it for free anyways. Just don't expect to enjoy it.
6 Underground is directed by Michael Bay and stars Ryan Reynolds amongst some other attractive vigilantes who have all buried their past in order to form a secret team and save the world!
Is full creative control always a good thing? In some cases, yes. For instance, Netflix gave Martin Scorsese < $175 million to make The Irishman, without any of their input! He quite literally did whatever he wanted, and it ended up working in his favour, posing as one of his most realistic, personal films. Netflix did the same thing here, but with Michael Bay…. Netflix gave Michael Bay $150 million to make whatever kind of action movie he wanted…. and he did… and that's how 6 Underground was born.
The very first sequence of 6 Underground features oversaturated colours, nauseating camerawork and editing, unfunny immature quips and sexual references, insanely gory violence and enormous explosions that scientifically do not check out. Sounds just like Michael Bay.
6 Underground is just essentially awful on every conceivable angle. Bay's direction here is arguably as weak as ever. With this film, he takes notes from the successful Bourne movies, with their documentary-style filmmaking (though it could be argued that he took notes from Peter Berg's abysmal Mile 22), and cranks it up to 11. The average shot length of this film cannot be over 3 seconds, it's hard to believe otherwise. This causes the action to be confusing to watch throughout the course of the film's entire 127 minute running time.
6 Underground's writing here as well is just bad! Written by Rhett Reese and Paul Wernick (of Deadpool and Zombieland fame), every sexual or immature joke and quip one could have possibly come up with found their way in. That and an overabundance of lovemaking scenes just make this film utterly obnoxious.
6 Underground sees Ryan Reynolds is also doing the same damn schtick he always does and at this point, this reviewer is totally sick of it. Thanks to this film's hard-R approach, he doesn't hold back on the graphic language or references, which just completely took a toll on me by the time this film was over. The rest of the cast is mainly there for the paycheck it seems? No one too big is in it other than Dave Franco whose role is a complete joke once you realize where it goes. Laurent was the one redeemable actor here, and it was cool to see her in such a big film again. It just sucks it was this big film.
It is quite baffling as to why a film like 6 Underground even exists, other than the fact that Bay was *allowed* to play with $150 million dollars worth of action movie crap, including Ryan Reynolds, attractive women he ends up objectifying on-screen, explosions, fancy cars (including but not limited to Lamborghinis, Bugattis, Maseratis), and an overabundance of product placement (including but not limited to THX?, and Ryan Reynolds VERY OWN Gin brand).