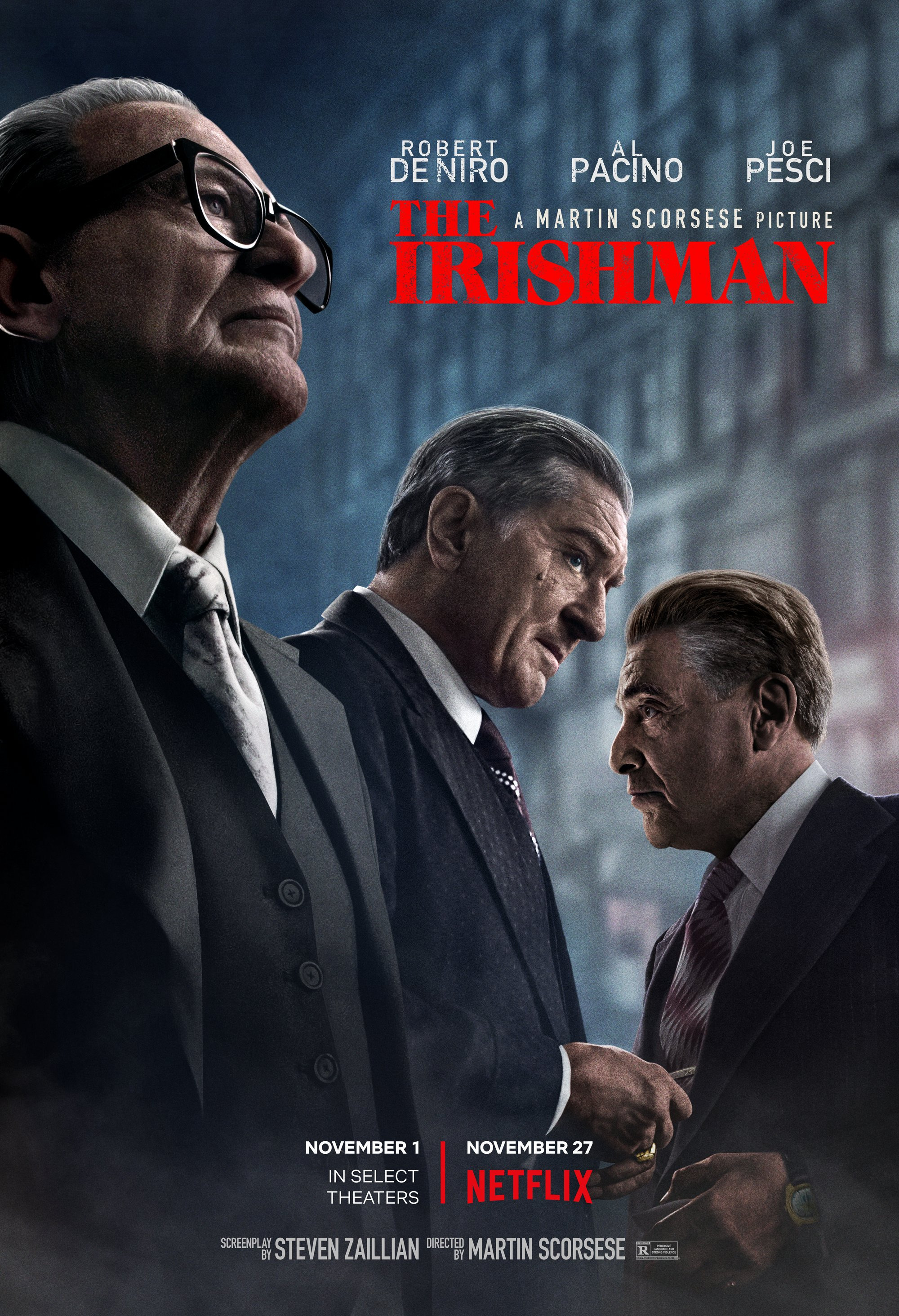 Starring

Robert De Niro, Al Pacino, Joe Pesci

Writer

Steven Zaillian

Director

Martin Scorsese

Rating

R (United States)

Running Time

209 minutes

Release Date

November 1st, 2019
Rating Summary
The Irishman is the best Scorsese offering in a long time and is also a refreshing look at one of his dearest subjects.
The Irishman follows Frank Sheeran (De Niro), a truck driver who gets under the wings of Russ Bufalino (Pesci), a well-respected mob boss in 60's New York. In very little time, Frank becomes the go to man for killing targets, and he also becomes highly respected inside the group. The mob assigns him to accompany Jimmy Hoffa (Pacino) where the two men become best friends. But Hoffa's continuous combative behavior becomes a problem for the Italian mob and Frank is asked to control his friends temper.
Netflix is bringing the big guns for the award season this year. Between The Two Popes, Dolemite is My Name, Marriage Story and The Irishman, this is quite a slate. The film is everything we've come to expect from a Scorsese mob film in that it's very well told with a fantastic and tense story full of twists and turns but is also funny and with great performances to boot. However, there is something new here that was quite curious. Although it rings very clearly as a Scorsese film, it also possesses a relaxed quality to it. Though the violence is all there, and it's powerful, there is also a quietness to it, a level of subtlety that fells very fresh. Those expecting the explosiveness of Goodfellas or The Departed may be disappointed. The Age of Innocence would make a more apt comparison; it's calm on the surface but the emotions are boiling hot beneath the surface.
There's one thing that needs to be addressed right up front: yes, The Irishman has a running time of over three hours but it's hardly noticeable: Scorsese's smooth storytelling allows audiences to sit back and enjoy the ride. There's definitely plenty going on here, however, probably its best quality is that its significant running time accommodates the development of the friendship between Frank and Hoffa, we understand and care for them, which is essential later into the film. We see them connecting for the first time, bonding, becoming relaxed with each other, and it keeps on building. When their relationship becomes more problematic, it's clearly heartbreaking. Frank is a very standard De Niro character: the guy who doesn't say a lot, who seems a little dumb and physically and emotionally unavailable. But over the course of the film, this begins to change, not completely, but enough to make the final half quite emotional.
The Irishman is such a different film in Scorsese's slate that the best conflict in the story is not even between the gangsters; it's between Frank and his daughter Peggy (Lucy Gallina and Anna Paquin). She sees who he truly is right from the start and her moral compass never weavers. It's quite a refreshment in the mob narrative, since usually all wives and kids seem not to mind with what is happening right in front of them. Peggy knows, and she can't sell her soul to that world and whatever it is offering. She's an almost wordless character but she doesn't need words. Her reactions establish the conflict and skyrocket it. Every moment between Frank and Peggy is extremely tense and again, quite heartbreaking.
That relationship dynamic brings in one of the themes of The Irishman – what is the legacy of our choices? – one that is so very moving. It has a resemblance with the death of Mary Coleone in Godfather Part III (I'm not saying Peggy dies here) in which it brings forward the toll of choosing that path. People die so easily in gangster movies that we tend to forget the ones who don't. What happens to their souls, what happens to their minds and conscience when that violent life is put aside, not by choice but because one becomes too old to keep on going? What's left when the prime of the gangster has passed? In a way it was reminiscent of Spielberg's note about the ending of Close Encounters of the Third Kind; he said after having kids he would never let the father enter the spaceship. He should have done differently but it's interesting to see him acknowledge that time changed him, and it feels like that also happened to Scorsese. Now that he's older, he is looking beyond the flashy moments of his gangster characters and looking ahead, to what comes next in life. It's quite powerful.
Of course such level of softness wouldn't work without the right actors, and The Irishman has plenty. From the always perfect side characters played by Bobby Cavannale (Felix 'Skinny Razor' DiTullio), from the wonderful Stephen Graham as Anthony Provenzano to the surprising Ray Romano as Bill Bufalino, everyone brought their A-games. Pacino hasn't had a juicy role like this for years (at least not in film) and he's very strong as Hoffa, not overdoing it as he so often tends to do. Ultimately, the best performance come from Pesci, again, going totally against type with his quiet Russ.
He's the voice of reason, the balance (if there's any) in the craziness of the world. He always seems to know best, to be centered, to have the right answer. He even seems just in a very f*ed up way. He feels so deeply when things don't turn out the best for everyone involved. In such a turbulent world, he's the guy you want by your side. But the menace is there, hidden beneath surface and ready for acting when needed. It's a fantastic performance (Thank you Scorsese for bringing him back from retirement).
If there's one negative thing that could be said about The Irishman it was that the de-aging is good but not all that convincing. It looks strange in some moments and it can't hide the fact that both De Niro and Pacino are almost 80; in some scenes that require the agility of a person half their age, it's noticeable they can't physically do it. But that is too little to really become a problem.
In the end, The Irishman is the best film by Martin Scorsese in a long time. And a great one it is!
*If you can't find it in a theatre near you, be sure to check it out once it drops on Netflix on Novemner 27th*
*still courtesy of Netflix*
---
If you like this review, look me up on Instagram for more suggestions.
If you liked this, please read our other reviews here and don't forget to follow us on Twitter or Instagram or like us on Facebook.