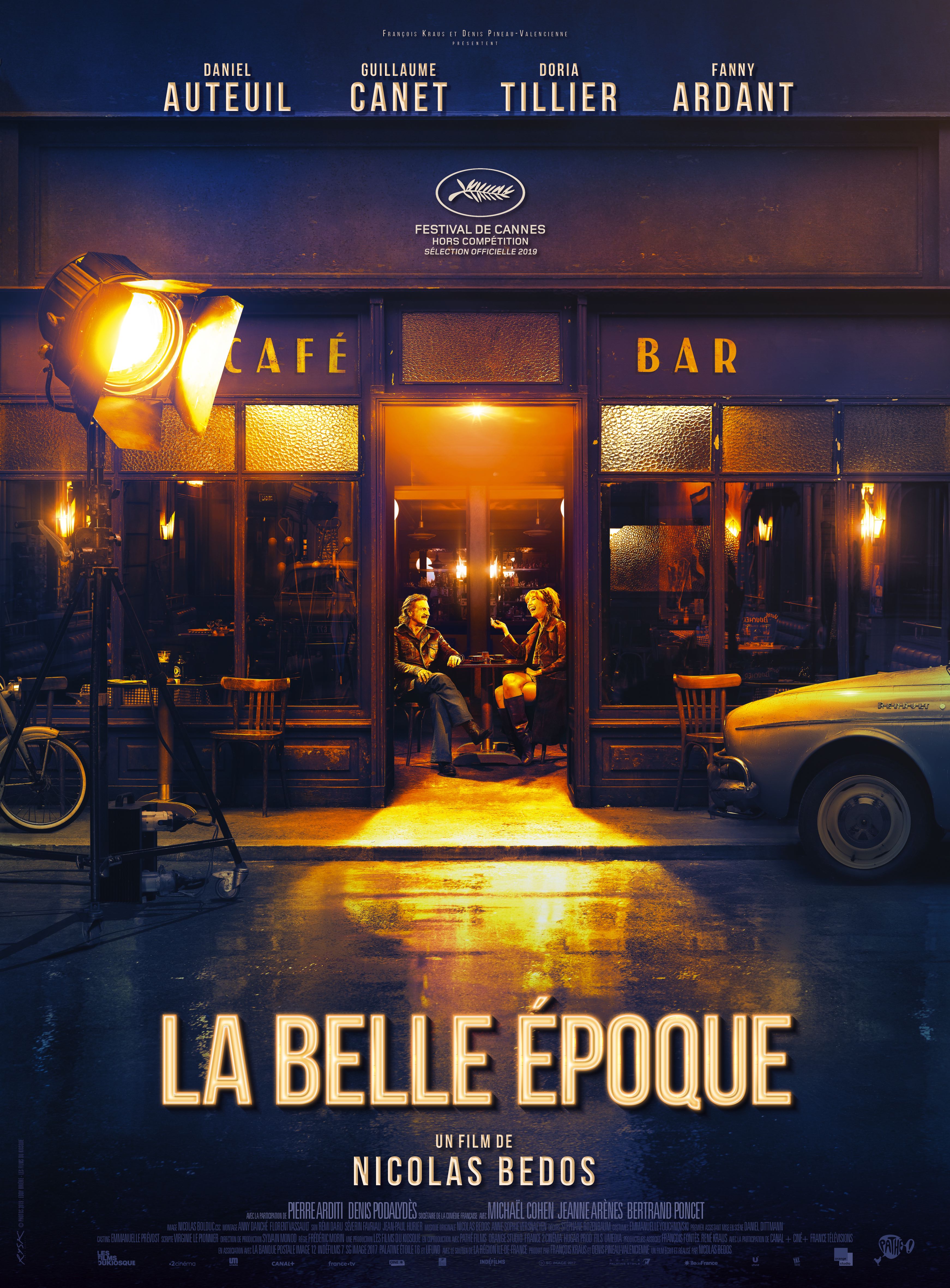 Starring

Daniel Auteuil, Guillaume Canet, Doria Tillier, Fanny Ardant

Writer

Nicolas Bedos

Director

Nicolas Bedos

Rating

R (United States)

Running Time

115 minutes

Release Date

December 13th, 2019
Rating Summary
La Belle Epoque is an excellent French dramedy with a surprising amount of depth and an entertaining premise.
After a Cannes premiere and a decent run on the festival scene, the french dramedy La Belle Epoque (or Belle Epoque in North America) is upon us. As with most foreign language films, it's easy to be intimidated as they are certainly not for everyone. However, their themes often are relatable and transcend language and this was again the case here. This multi-generational story of love and loss will surely connect with some audiences as it goes about it with an interesting premise at its center. Ultimately, the best way to enjoy this film arguably is to go into it as blindly as possible.
La Belle Epoque follows an artist and sometimes comedically antiquated man named Victor Drumond (Auteuil) who has seen the world pass him by. He arguably was still stuck in the past while his sheer disdain for anything new was hilarious. Meanwhile, this growing divide would also impact Victor's relationship with his wife Marianne (Ardant) who was also drifting apart from him (while finding solace in another). After a heated argument left him kicked out of their shared apartment, Victor was left lost. While his trajectory from that point was more or less predictable, the way the story would go about it over the course of the film was still compelling to watch and a little deeper than one would expect.
The big gimmick of La Belle Epoque came after Victor was offered a chance to relive the past thanks to an entrepreneur named Antoine (Canet). Antonie owned a company that specialized in realistic historical recreations, offering potential clients the chance to live the era of their choice, and also shared a personal connection with Victor. Of course he chose to relive the week when he met Marianne 40 years earlier. Thanks to Victor's memories and many drawings from that time period, Antonie and his company managed to recreate that time from his life for the most part considering memories rarely stay fully intact after long periods of time. It was certainly fun to watch him react to what he was experiencing once again and having fun reminiscing while also pointing out any little discrepancy.
Over time, Victor became enamored with this recreation of his past life, despite knowing that none of it was real, and also the actress playing a past version of Marianne, a disgruntled woman named Margot (Tillier). She had a complicated relationship of her own with Antoine, a bipolar control freak who in turn was worried about how close she was getting to Victor (while arguably using Victor to show the kind of relationship she wanted with him). The similarities were definitely there, however, that subplot was nowhere as compelling and paled in comparison. Meanwhile, the time spent apart from one another afforded Victor and Marianne a newfound perspective of themselves and their relationship. When it looked like the characters would go a certain way, the story would go in a different direction as everything came full circle.
La Belle Epoque features a sharp script full of humor and tender moments and solid direction but the best part of the film undoubtedly was Auteuil's excellent performance as Victor. With Victor being at the center of everything, Auteuil definitely carries the film with his charm and relatability, allowing for an emotional connection with the audience. Suffice it to say the film doesn't work without him. Though he was fun to watch, the chemistry among the whole cast made the film fun to watch as a whole. Canet was good, showing some range as the abrasive yet tender Antoine. Tillier was impressive, bringing plenty of personality while playing two roles as Margot. Ardant was solid in limited screen time as the present Marianne.
In the end, La Belle Epoque is a fun little dramedy that won't be for everyone but a great script and performances along with a fun premise make it worth the chance regardless of language.
*still courtesy of Pathé Films*
---
If you liked this, please read our other reviews here and don't forget to follow us on Twitter or Instagram or like us on Facebook.