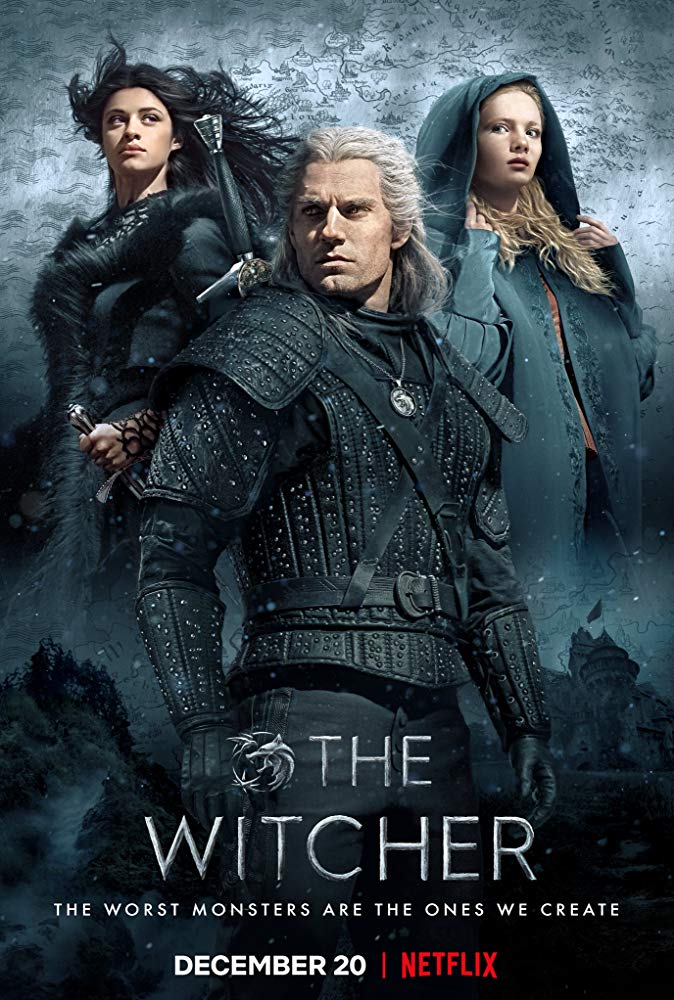 Creator

Lauren Schmidt

Rating

TV-MA

Episodes

9

Running Time

474 minutes

Channel

Netflix
Rating Summary
Despite some major flaws in its storytelling, structure, and lack of fully-rounded characters, the first season of The Witcher finds a way to still be an appealing watch that is likable and fun.
Search no more. There is a now a new series available to fill the fantasy-sized hole in our collective hearts in a post Game of Thrones world. It's not exactly the same, however, Netflix's newest original program, The Witcher, based off of the highly popular book series and video games, is a satisfying binge-watch during the upcoming holidays.
The Witcher focuses on three major storylines – Geralt of Rivia (Henry Cavill), Yennefer (Anya Chalotra), and Ciri (Freya Allan). Geralt is a Witcher, a human infused with magical abilities that essentially serves as a monster hunter for hire. Yennefer was an unwanted daughter who was placed in a school for the development of Mages, an honored position among kingdoms that help influence the use of power for whom they serve. Ciri, the granddaughter of a fallen queen who is on the run from dark forces bent on capturing her, was motivated by her grandmother's dying request – find Geralt of Rivia for he is her destiny. All three storylines slowly worked towards colliding during the first season and the journey each takes to get there manages to deliver a fun and pleasant fantasy ride filled with cursed creatures, dragons, bards and magic.
Destiny is a word that is thrown around quite loosely throughout The Witcher with seldom seen applications but more simply is used to imply the unanswered questions of the future. Just as loose is the season's timeline which quickly bounces from flashback to current timelines amongst characters without any intention of holding the audience's hand to help them navigate the changing narrative. This is continued through the massive amounts of names, places, and creatures that inhabit this interesting world but are rarely explained to the average viewer. Instead, the series assumes previous knowledge of the written material from which it is derived.
This practice is exhausting and semi-frustrating when trying to emotionally invest in its characters, however, The Witcher is at no point interested in this but rather is tasked with telling a very specific story that leaves its ending open for more to come. To this end, the series succeeds flawlessly and in truth, its decision to not spend precious minutes throughout each episode in the exposition of the political climates, species or magic does not hurt the overall entertainment value because viewers will give into its approach or simply move on. While the myriad of details exists within this world, some are hinted at or semi-explained, the series never seeks to become too serious and rests comfortably in its rightful place of being an entertaining watch with little to no prior knowledge needed in order to enjoy.
The Witcher separates itself from other similar series by its adaptation from successful source material while also telling its story with a unique approach that placed more importance on the aesthetics and feel of its world rather than the development of the main characters that inhabit it. This exception to this is Yennefer who seems to undergo an emotional transformation that feels earned over the course of the season's 8 episodes but that comes at a cost as Geralt and Ciri's journeys feel like a means to an end.
However, this frees The Witcher's episodic structure to become a monster-of-the-week quasi-procedural that operates underneath a larger overarching story that some might find comforting in its undemanding nature and is easily one of the show's biggest strengths when delivering a highly entertaining product.
---
If you liked this, please read our other reviews here and don't forget to follow us on Twitter, follow us on Instagram, and also like us on Facebook.