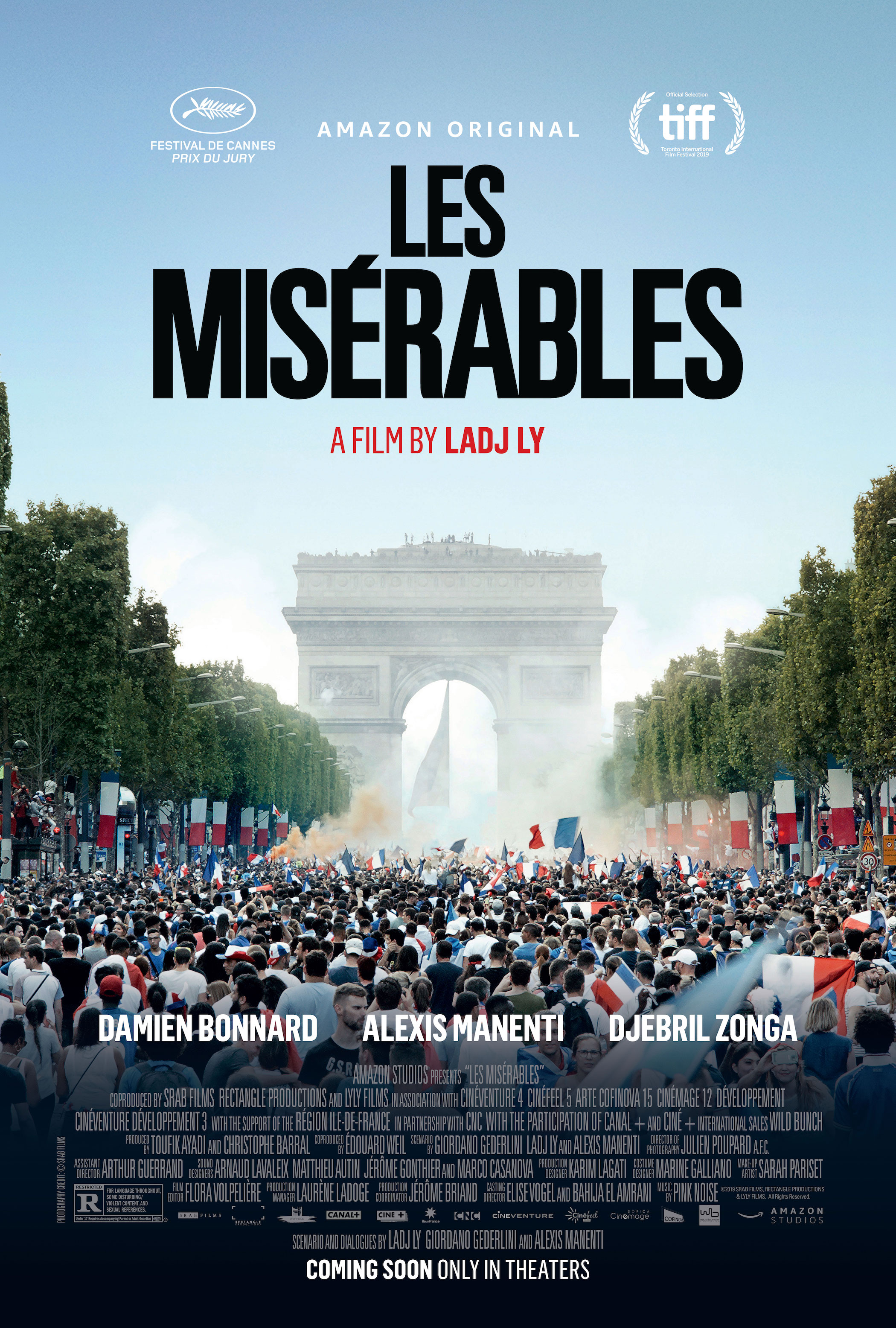 Starring

Alexis Manenti, Damien Bonnard, Djibril Zonga

Writers

Ladj Ly, Giordano Gederlini, Alexis Manenti

Director

Ladj Ly

Rating

R (United States)

Running Time

102 minutes

Release Date

January 10th, 2020
Rating Summary
Watching Les Misérables could be compared to a kid waking up all excited on Christmas, opening up their toys only to find everything broken.
The directorial debut of Ladj Ly, Les Misérables saw its world premiere at the 2019 Cannes Film Festival. A title like that may imply that this film is a remake of the beloved Victor Hugo story, but instead, Ly has given viewers a gritty look into the underworld of a suburb of Paris known as Montfermeil. The story follows three characters named Stéphane Ruiz (Bonnard), Chris (Maneti), and Gwada (Zonga), a trio of anti-crime brigadiers in the heart of the corrupted Montfermeil. After what seems to have been an easy arrest goes awry for the trio, as their paths becomes crossed, leading the three men towards a downward spiral of anger, determination and retaliation making for at times a fist clenching, heart pumping ride. That being said, like any ride, there is bound to be a few bumps along the way which certainly was the case here. 
With Les Misérables Ly and co-writers Giordano Gederlini and Alexis Manenti craft a powerful, decently paced albeit formulaic screenplay that allows for a complex exploration of its characters all while playing with our own expectations of the characters and the story meanwhile serving as a commentary on the societal status of France's policing system. Not often in recent memory has there been a film that focuses mainly on its antagonists, leaving viewers hoping for their ultimate downfall. Chris is arguably the worst of the three main characters who would be brought to life thanks to a powerful performance from Manenti. Also, while Bonnard and Zonga each deliver good performances as Stéphane and Gwada respectively, in the end Manenti was the clear star of the show. 
However, the biggest problem of Les Misérables was its unsatisfying abrupt ending that will surely lead to some disappointed viewers. Meanwhile, nothing about the film should stand out among casual viewers as it certainly won't be for everyone. The film's cinematography is average at best and it its three main characters lack likability, leaving some to wonder whether they can be considered protagonists or antagonists as the line between both can be blurry at times. In the end, the film's setting of Paris, featuring its suburbs look great on film, but don't necessarily make the movie more worthwhile then it is. 
At the end of the day, Les Misérables is certainly not an easy watch, portraying a harsh reality featuring dirty cops, brutality against children, and characters doing whatever it takes to save their own behinds all make for a more or less entertaining film. Where it loses its standing as an amazing film is its lackluster ending where Ly simply appears to have run out of ideas. This was truly disappointing to see especially for the many who will find themselves invested in the film's three main characters. 
In all honesty if you really want to be satisfied with a Cops vs Crooks experience, do yourself a favor and watch Queen and Slim Instead.
*still courtesy of Amazon Studios*
---
Follow me on Twitter and Instagram and check out my Letterboxd.
If you liked this, please read our other reviews here and don't forget to follow us on Twitter or Instagram or like us on Facebook.