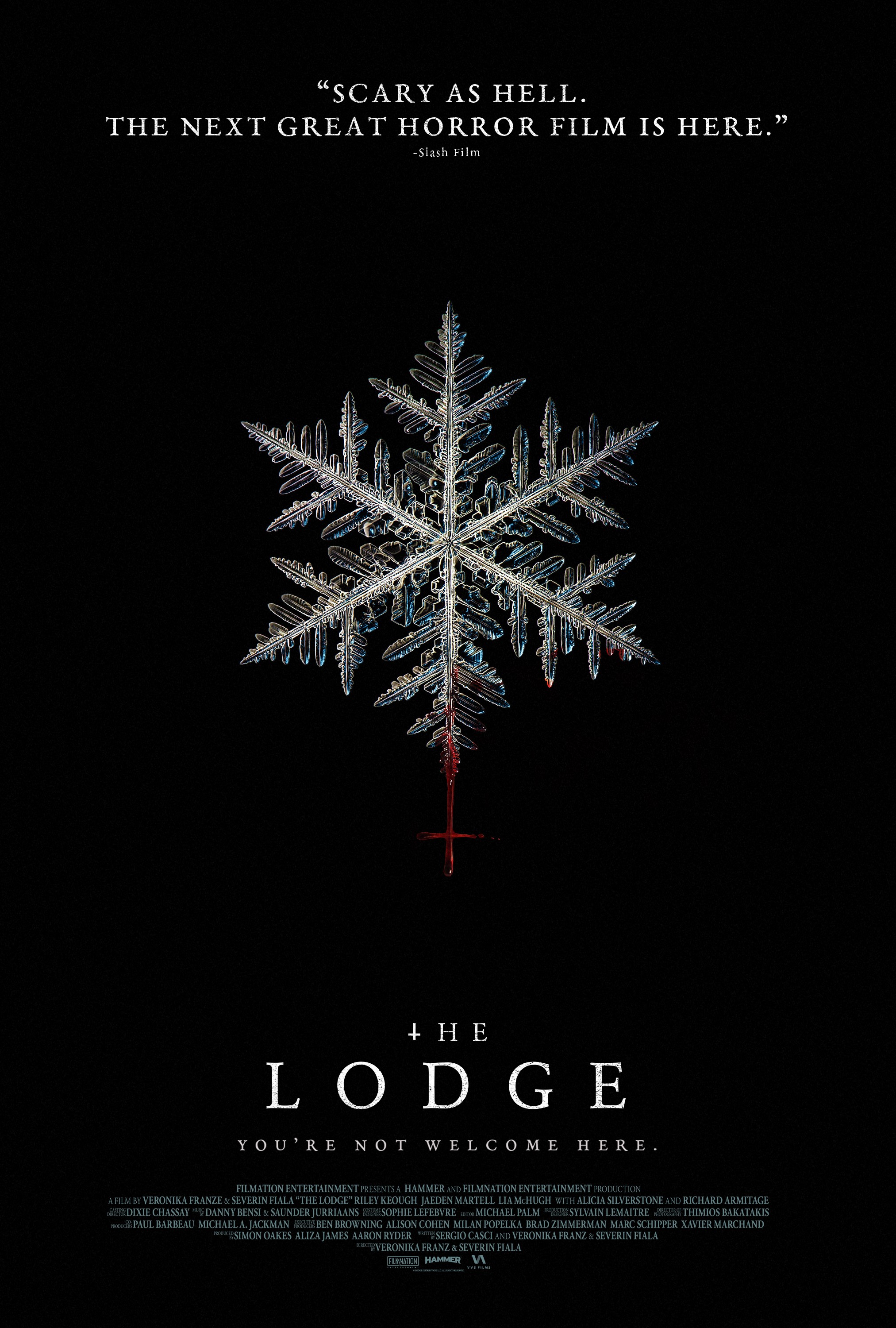 Starring

Riley Keough, Richard Armitage, Jaeden Martell, Lia McHugh

Writers

Sergio Casci, Severin Fiala, Veronika Franz

Directors

Severin Fiala, Veronika Franz

Rating

14A (Canada), R (United States)

Running Time

108 minutes

Release Date

February 7th, 2020
Rating Summary
The Lodge is an exhilarating psychological horror and a fine piece of masterful atmospheric storytelling, however, the story itself doesn't quite hit the landing.
This year so far has not been particularly kind to the horror genre (though it shouldn't come as that much of a surprise as the early months of the year have notoriously not been kind) but this looks to change thanks to The Lodge. Originally premiering at last year's Sundance Film Festival, the film has finally been released at a certainly appropriate time (after an originally scheduled for last November) considering the film's winter setting. While many horror films rely on lazy jumpscares and dull storytelling, the more successful films thrive on creating an engaging atmosphere that further elevates the horror and scares and keeps audiences on the edge of their seats. Hereditary and Midsommar are two recent films that follow that mould. This film may more or less follow that same formula with great success, it doesn't quite reach the same heights as those films as its story's parts exceed their sum and never fully comes together in a satisfying way.
The Lodge follows the awkward relationship between a woman named Grace (Keough) and two kids named Aidan (Martell) and Mia (McHugh) that only got worse as they found themselves trapped in a snowed in remote cabin around Christmas time. Having recently lost their mother Laura (Alicia Silverstone), Grace was set to be Aidan and Mia's stepmother after marrying their father Richard (Armitage) whose relationship with Laura did not end on the best of terms. All things considered, the kids weren't exactly receptive of Grace and even less so of having to stay in a cabin with her over Christmas. Along with a questionable past working against her, Grace was definitely a question mark going in (whatever Richard saw in her was a mystery). However, she did not seem to show any signs of that past at least at first as all she wanted to do was fit in while the kids saw her as an intruder. Both sides of this argument were equally compelling and relatable as they played out on screen but the film would eventually lose sight of this, choosing to go all in with its psychological aspects that weren't exactly horror per se (more thriller) though were still very tense to watch.
Though the awkward relationship arc had its moments, it was Grace's story that rightfully took center stage here. Isolation obviously brought along its own set of issues for her and the kids. The drama was there but suffice it to say that things got weird though one couldn't necessarily believe what we saw with Grace experiencing the worst of it. The Lodge would see her on a downward spiral as her fragile state left her in a vulnerable position that would only get worse as her past resurfaced as the film went on. Assuming the role of a maternal figure for the children only further complicated their ordeal. While this section was truly exhilarating to watch, as was the gut-punch of an ending, a twist (or maybe it wasn't) undercut and lessened the impact of the emotion. Nevertheless, the film does a masterful job at framing a palpable sense of tension throughout the film through its use of cinematography that emphasized both the vastness and claustrophobic nature of their predicament. Along those lines, the sound design and chilling score heightened the tension and the creepiness.
Ultimately, the best part of The Lodge was the exceptional performance from Keough as Grace. The story may have been inconsistent but she was the standout. If this performance doesn't prove that she could do just about anything than nothing can. She shows considerable range over Grace's character arc as she, without giving anything away, showing strength and vulnerability as she faced a gamut of emotions and feelings, as the film alternates between drama and horror. Meanwhile, Martell and McHugh were solid as Aidan and Mia respectively. Their chemistry made for a fun brother and sister pairing until their characters kind of took a major step back. Armitage, in a minor role as Richard, was fine.
At the end of the day, The Lodge is an atmospheric horror film that is sure to warm audiences up over the remaining winter months.
*still courtesy of VVS Films*
---
If you liked this, please read our other reviews here and don't forget to follow us on Twitter or Instagram or like us on Facebook.