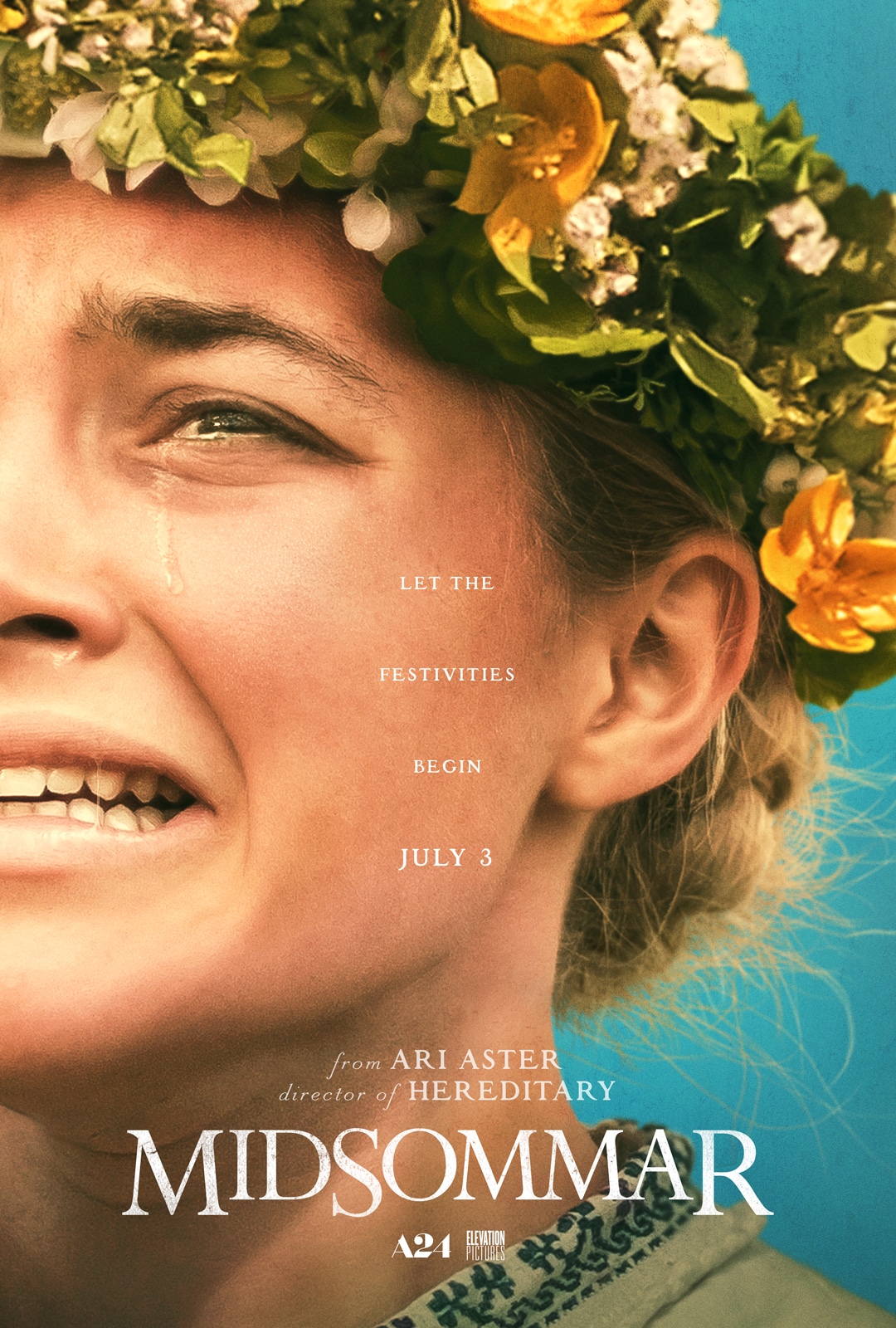 Starring

Florence Pugh, Jack Reynor, Will Poulter

Writer

Ari Aster

Director

Ari Aster

Rating

18A (Canada), R (United States)

Running Time

140 minutes

Release Date

July 3rd, 2019
Rating Summary
Midsommar is one of the most beautiful films in recent memory. It transports audiences to a different world where they can't look away, weaving dread and intense emotion with ease while providing a few laughs along the way.
For our earlier review of Midsommar, click here.
After the genius that was Hereditary, writer/director Ari Aster is back with a completely different followup that matches or even surpasses his debut with Midsommar. However just like Hereditary, Midsommar will definitely not be for everyone though those willing to go through with it will be treated to one of the most beautiful-looking films in recent memory. Thanks to the cinematography, set design, sound design, costume design, and the score all work together to transport us to a world that will make us uncomfortable and where we can't help but to not look away. While this film may up the ante in terms of sheer insanity, it still offers a compelling story at its core to ground it just like Hereditary.
The story here followed a couple named Dani (Pugh) and Christian (Reynor) who travel to a rural Swedish town with their friends Mark (Poulter), Josh (William Jackson Harper), and Pelle (Vilhelm Blomgren) to attend a mid-summer festival. Dani and Christian's relationship was perhaps not on the best terms as it eventually became defined by trauma and Christian's growing disinterest. Despite this, Dani was reluctantly invited anyway. What started off innocently enough would prove to be a major test for their relationship and their relationship with their friends for that matter. Knowing what we know about Hereditary and film in general, things eventually got much worse for them.
Midsommar will hit audiences right away but then can arguably be a little slow for some as the story sets the stage for the end. As mentioned, they were attending a Swedish midsummer festival that would start off innocent enough. The rural Swedish countryside may be beautiful while the longstanding cultures and traditions of the Hårga people may seem a little odd to these American outsiders, however, these characters were willing to give all of that a chance. Despite this, there was just something about all of it that never seemed quite right. As the characters got acclimated with their new surroundings, the arguable absurdity of what they were witnessing was played for humor. The film was hilarious more often that not though it never distracted from the drama.
Regardless, over the course of the film. the atmosphere and ambiance pulls the audience in while creating a growing sense of dread. What would start off as a simple trip became a nightmare of sorts for these characters as the more sinister nature of the Hårga people is revealed. Now it shouldn't come as much of a surprise to anyone that Midsommar gets a little bonkers and twisted which will undoubtedly cause some viewers to jump out of their seats on its way to earning its 18A/R rating. Despite some of the occasional disturbing material on display, the underlying drama was just as if not more compelling to watch, putting a spotlight on Dani and Christian's relationship as it was put through the ringer. Meanwhile, Josh and Mark were nowhere near as compelling but this was just a minor gripe.
Ultimately, the best part of Midsommar was its technical prowess. A major reason why audiences can't help but not look away was because of how beautiful it was. With the majority of the film taking place during the day, which would add another wrinkle to the story, its use of natural lighting only accentuated the beauty of the countryside. The cinematography was breathtaking and uncomfortable to watch at times, including the occasional moments of brutality, while the camerawork was impressive in capturing the synchronicity and group-like mentality of the Hårga people. The impeccable costume and set design was full of authenticity. The sound design along with one of the best scores of the year so far worked together to create a palpable sense of eeriness throughout.
The performances were also excellent throughout which would begin and end with Pugh's incredible performance as the damaged Dani. Without giving too much away, she is truly something to behold as Dani is taken through the gamut on an emotional level before, during, and after her entire ordeal in Sweden. Reynor was solid in a supporting role as Christian, recovering from a slow start and showing his strength later on. Poulter excelled as Mark, making an impact as the de facto comic relief.
At the end of the day, Midsommar is an experience like not many other films, continuing to prove that Ari Aster is a force to be reckoned with.
*still courtesy of Elevation Pictures*
---
If you liked this, please read our other reviews here and don't forget to follow us on Twitter or Instagram or like us on Facebook.