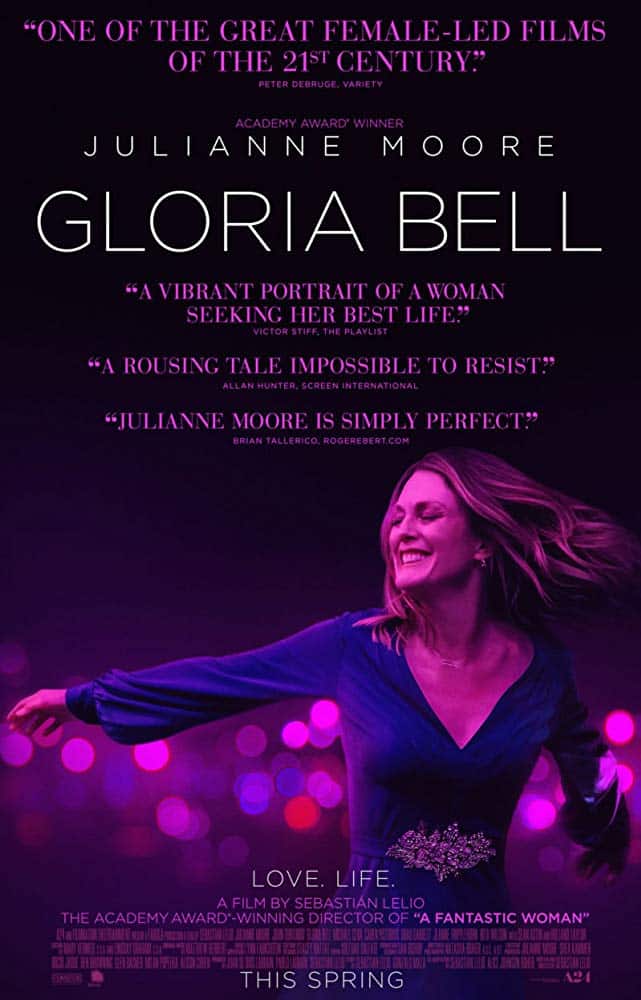 In 1982, Laura Branigan proudly sang about Gloria. She tells us that "(she's) headed towards a breakdown," and that "(she's) got to slow down, before (she) starts to blow it."  The way she belts and vocally claws her way through the song makes it perfect. It's an emotional, textured vocal performance for a song about a well-written character.
Synopsis: Gloria is a free-spirited, middle-aged divorcee who spends her days at a straight-laced office job and her nights on the dance floor, joyfully letting loose at high-end dance clubs around Los Angeles. After meeting Arnold on a night out, she suddenly finds herself thrust into an unexpected new romance, filled with both the joys of budding love and the complications of mature dating. (VVS Films)
Starring: Julianne Moore, John Turturro, and Michael Cera
Writers: Sebastián Lelio and Alice Johnson Boher
Director: Sebastián Lelio
Rating: 14A (Canada)/R (United States)
Running Time: 102mins
Trailer: 
In that way, it's the perfect theme song for Sebastian Leo's Gloria Bell, a sweet film about a woman who's trying her best, and at the same time, she's human. It's essentially plot-less, as we follow Gloria (Moore) dealing with different areas of her life. But at the same time, with a film where the characters and relationships are this palpable, the lack of plot isn't as much of an issue.
Gloria Bell is a remake of Sebastian Leo's breakthrough film, Gloria. It's been said that the creation of the film came from Julianne Moore's passion for the role alone. She moved the project through creation and to the big screen, which is a plus for us, as she's incredible. We follow Gloria as she makes her way, thrusting through day to day office life. She deals with her son Peter (Cera), daughter, ex-husband Dustin (Brad Garrett) ,and Arnold (Turturro), a man who does a sort of magic act when it comes to her life, popping up whenever he pleases.
In a way, the film is about something new going wrong, hitting a personal low, clearing that low out of your system, and resetting. There isn't much here in terms of a standard narrative, but the film more creates a sense of boredom in Gloria's life, leading to her meeting Arnold. While there's a supposed happiness in Gloria's life, Moore plays her as if there's a sadness, a frustration, or a difficulty always seeping through. It's a life that should be happy, but it isn't – and Gloria goes looking for something to solve this. We find her finally letting herself go in a third act, which feels hazy and regrettable but fully understandable for a character like Gloria.
The way director Sebastian Leo creates this film is pretty spectacular. The writing is keen and connected to the way people have awkward conversations. The relationships and connections each character have are unique, and the dynamics of each one make for a watchable film. One scene in particular where Gloria's kids, ex-husband and boyfriend are put into a dinner situation mines the circumstance for wonderful dramatic irony. The visual style throughout the film becomes more pronounced over time, with the final act having cinematography that makes the cloudy and drunken final act. And Leo has such a way with actors – there's not a single performance here that dampens the film or brings down the film.
While Gloria Bell is fully Julianne Moore's show, with a powerhouse of a performance that we follow throughout, Gloria Bell also has one of the best and widest casts in a while. A duo of pronounced male performances from Cera and Turturro are both defined characters. Cera, playing off of his mom and his spouse who disappeared before the film starts, is a bit more angered then the type of role Cera usually plays. He's got a strength to his words whenever his concerned voice gets raised, and he feels like a genuine person, opposed to just Cera. This is pretty special because a lot of the time, Cera performances feel like we're just watching Cera be himself. And of course, Turturro is wonderful. It's always a good time when you see American Treasure Turturro on screen, but he's really just lovely here.
The most disappointing thing is, when it comes to Gloria Bell, critics seem to not be giving it enough credit. Sure, it's an excellent and enjoyable portrayal of a perfectly written characters life, anchored by a powerhouse performance by Julianne Moore, but it's also interesting thematically. The thesis here has a lot to do with the interruption of steadiness. How that one odd change can throw everything off, and before we know it, if we're Gloria Bell, we're getting hammered in Las Vegas all of a sudden. If you were smart, you'd take the opportunity to spend the time with Gloria whenever you can.
Score: 8/10
If you liked this, you can find me on Twitter at @selfseriousness.
If you liked this, please read our other reviews here and don't forget to follow us on Twitter or Instagram or like us on Facebook.