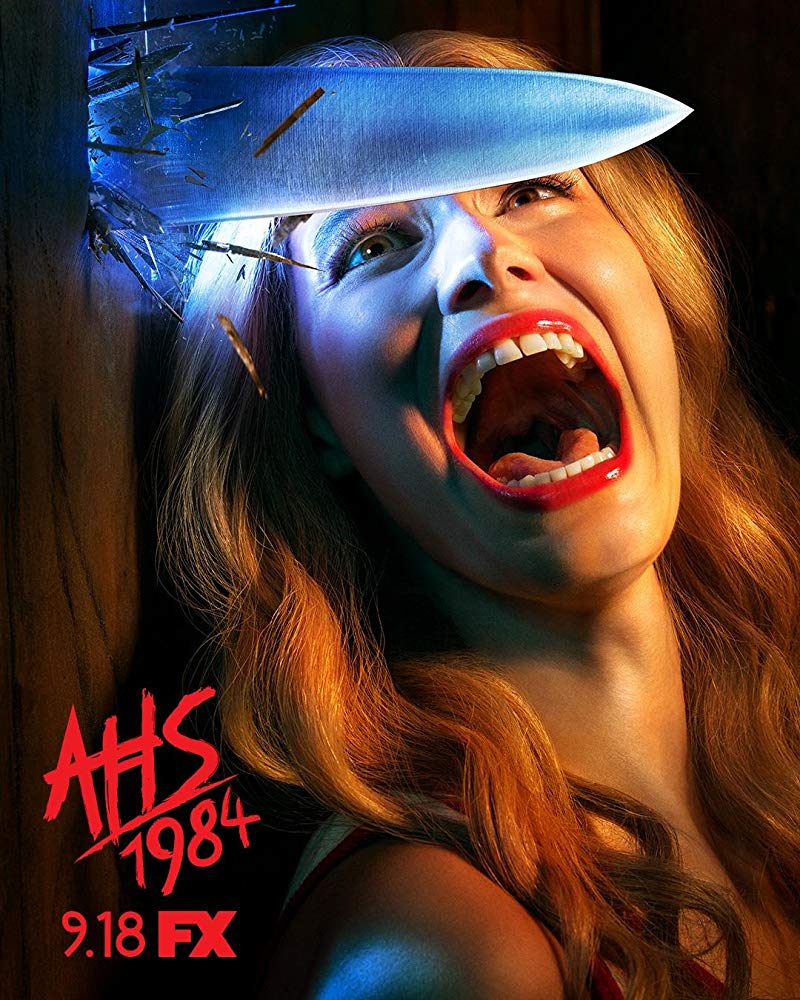 Director

Bradley Buecker

Writers

Ryan Murphy, Brad Falchuk

Rating

TV-MA

Running Time

48 minutes

Airs

Wednesdays 10pm

Channel

FX, FX Canada
Rating Summary
Camp Redwood was a thoroughly enjoyable premiere as this season's premise is easy to buy in to at this point but only time will tell.
For our review of last season of American Horror Story, click here.
Synopsis: In the summer of 1984, five friends escape Los Angeles to work as counselors at Camp Redwood. As they adjust to their new jobs, they quickly learn that the only thing scarier than campfire tales is the past coming to haunt you. (IMDb)
Welcome to Camp Redwood.
In its 9th season, American Horror Story fully embraces one of the most iconic horror eras with the 80s. Aptly titled: AHS:1984, the season focuses on a group of stereotypical teens who seek to escape the city scene of Los Angeles pre-Olympics in favor of summer counselor jobs at Camp Redwood.
But before venturing into the 1980s, we are shown Camp Redwood in 1970 as it experiences a mass murder spree at the hands of the mysterious Mr. Jingles (John Carroll Lynch) who manages to kill 10 camp staff causing the camp to shut down for good. That is until new owner Margaret Booth (Leslie Grossman) decides to reopen the camp almost 15 years later. The camp staff is comprised of Xavier (Cody Fern), an aspiring actor and current summercize instructor, Montana (Billie Lourd), an aggressive blonde who has her sights set on being an aerobics champion, Ray (DeRon Horton), an orderly with a perfectly manicured mullet, Chet (Gus Kenworthy), a DQ'ed Olympic washout and Brooke (Emma Roberts), the seemingly innocent "final girl" who serves as the show's moral compass. While the group is full of interesting, yet familiar, characters, none holds a candle to Camp Redwood Activities Director and Threes Company end credits extra, Trevor (Matthew Morrison).
As they begin to settle into their respective roles, Booth reveals her true motivation for reopening the camp. She was the sole survivor of the 1970 camp massacre referenced in the opening and is seeking to turn the very place that negatively changed her life into a positive. Mr. Jingles was convicted and placed in a mental facility thanks to Booth's testimony but conveniently escapes in order to return to the scene of his crimes thus setting in motion the overarching storyline for this season.
Typically after an AHS premiere, it is easy to have reservations about some major aspect of the season but with 1984 it is definitely nice to completely in on this season's premise this time around. The only major question at this point is: How will this season sustain its storyline across 9+ episodes? From the teaser trailer, it appears that most of this season takes places during one fatal night at camp but only time will tell. Either way, this was a thoroughly enjoyable first episode with plenty of promise about what may lie ahead.
Parting Thoughts:
Best opening credits in 9 seasons
Trevor is making a strong case for season MVP
The soundtrack is an excellent walk through time
It's great to have John Carroll Lynch back! (but where's my Twisty connection?)
How will Camp Redwood connect to the rest of the shared universe?
---
---
If you liked this, please read our other reviews here and don't forget to follow us on Twitter, follow us on Instagram, and also like us on Facebook.