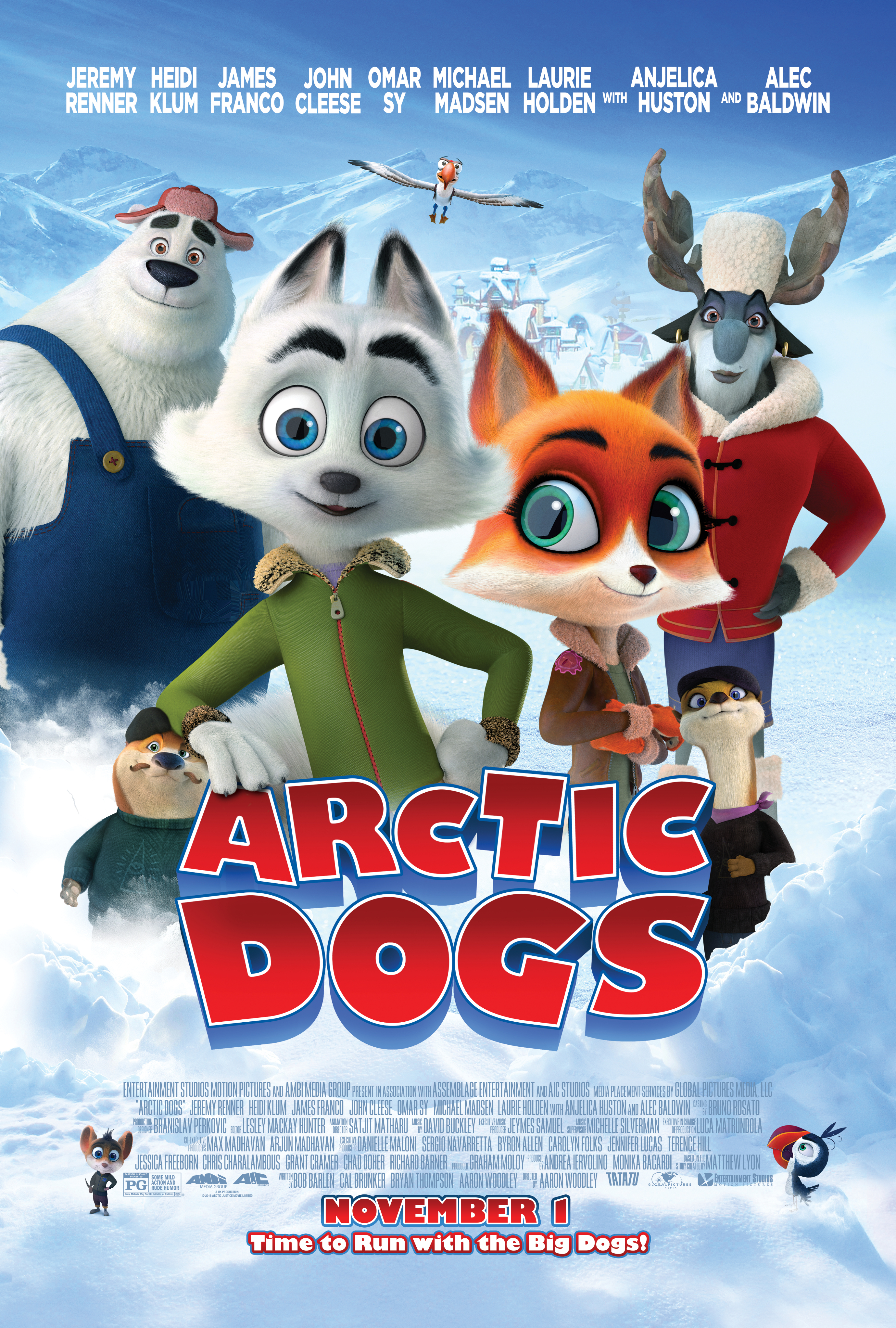 Starring

Jeremy Renner, James Franco, Heidi Klum

Writers

Bob Barlen, Cal Brunker, Aaron Woodley

Director

Aaron Woodley

Rating

G (Canada), PG (United States)

Running Time

92 minutes

Release Date

November 1st, 2019
Rating Summary
Arctic Dogs, while not completely deplorable, is a bland and uninspiring animated children's film that is sure to be forgotten in the long run.
While the standard animation juggernaut studios will continue to make waves with their feature film releases, more and more small animated studios have slowly been offering their own content; trying to catch the attention of its viewers. Arctic Dogs, the latest endeavor of this category from Entertainment Studios, is a largely unmemorable animated experience.
Arctic Dogs follows Swifty (Renner), an arctic fox, who works in the mail room of the Arctic Blast Delivery Services (ABDS), but he has much bigger dreams. While fellow work pals PB (Alec Baldwin) and Lemmy (Franco) find joy in their mundane task at ABDS, Swifty yearns to become the company's "Top Dog", the Arctic's star husky couriers that deliver the mail all around town. Yet, despite his small stature, inexperience, and occasionally drawing fire from curmudgeonly Elk boss Magda (Anjelica Huston), Swifty still continues to be optimistic in becoming Top Dog status.
One day, Swift suddenly gets his chance to command his own sled and delivers a mysterious package to a secret isolated location to one Otto Van Walrus (John Cleese). However, Swifty quickly becomes entangled into something larger by this action, discovering a nefarious plot with Otto Van Walrus's plans, a secret conspiracy over the disappearance of ABDS's Top Dogs, and the sudden change in warmer weather in the surrounding. To prove himself, Swifty, along with PB, Lemmy, and Swifty's secret crush Bertha (Klum), must uncover the truth behind Otto's plan and save their town from doom.
Arctic Dogs has a sense of charm about it as Swifty's predictable journey from underdog to town hero but it's still easy to digest as it caters to a younger audience. Animation-wise, the film looks okay. It's definitely colorful and feels like a kid's animated movie should though still seemed like a downgrade compared to today's animation. The main problem with the film was how it just felt underwhelming throughout, like a direct-to-video release. The story wasn't the easiest to follow and was just wonky as the script should've been more focused on Swifty's journey. The remainder of the story just doesn't rise to the occasion, coming off as hollow and uninspiring.
Arctic Dogs' alright performances were probably the best part of the film. That being said, most of the performances were just plain boring and lifeless. Renner stood out perhaps the most as Swifty. Though his journey has already been covered countless times, he makes it work by interjecting his energy and charisma into the role. The same could not be said for the remainder of the cast as none of them make their respective characters their own.
In the end, Arctic Dogs is an iffy (if serviceable) animated movie at best and a forgetful one at worst with passable animation and voice acting while lacking a quality narrative that other recent animated feature films have done much better.
*still courtesy of Entertainment Studios*
---
I hope you enjoyed my review. If interested, head over to my blog Jason's Movie Blog to read more of my reviews. Also, follow me on Facebook and on Twitter @jasonmoviesblog
If you liked this, please read our other reviews here and don't forget to follow us on Twitter or Instagram or like us on Facebook.