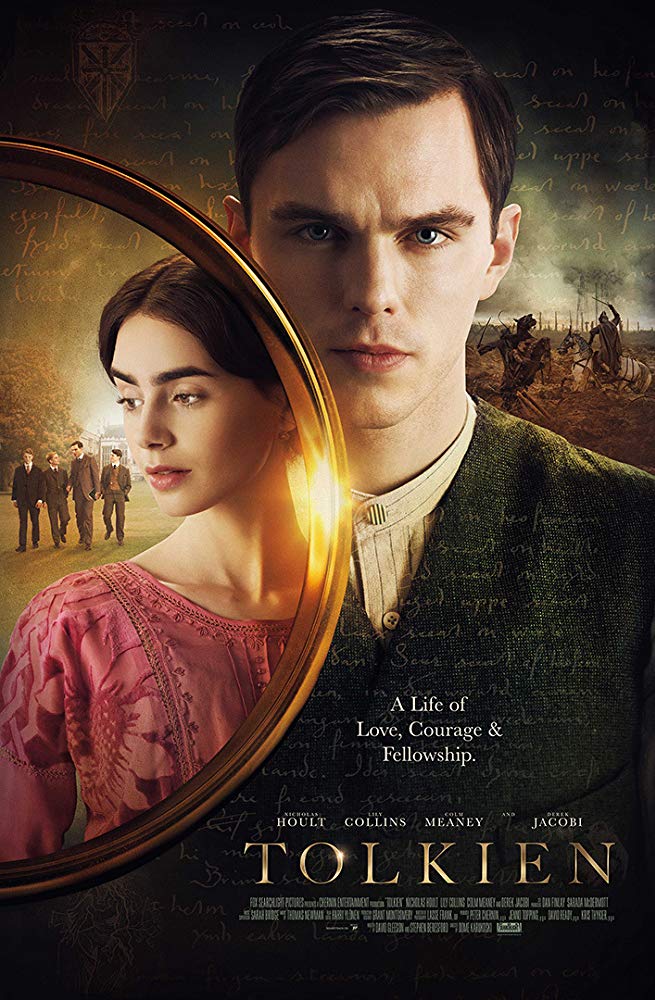 Rating Summary
While it may not have the blessing of the Tolkien Estate, Tolkien stands as a respectable and earnest endeavor, shedding a dramatized cinematic lens on part of Tolkien's life and the hinting notions that shaped the author's mind into creating his utopia fantasy setting of wizards, elves, dwarves, and hobbits.
At a young age, John Ronald Reuel Tolkien (Hoult) was raised in the open countryside of rural England but when times grew difficult, he was forced to relocate to the harsh industrial realm of London. After the death of his mother, John and his brother were put into the care of Father Francis (Meaney) and sent to live with a moneyed guardian who also offered shelter to one Edith Bratt (Collins). Over time, John falls in love with Edith, but soon finds it difficult to commit to such a leap of romantic faith. Tolkien's world comes to a halt when World War I breaks out, thrusting John into a Hellish maelstrom of war, with his imagination turning battlefield trauma into malevolent monsters and dragons.
Despite a few stumbles, Tolkien is a well-made, well-acted, and well-respected film, showcasing the themes of love, friendship, and imagination within a young man's life. There was certainly room for improvement in certain areas, but as a whole is a polished period piece bio drama that's sincere in its overtures and cinematic nuances. Focusing on the early life of Tolkien, the film showcases a gentle and sincere story of love, courage, and friendship. It honors Tolkien's life by making each and every scene feel both majestic and cinematically poignant. It also stands on its own merits without trying to emulate the same flair of Peter Jackson's two Middle-Earth trilogies.
There's definitely a sense of fantasy visuals that are peppered throughout the feature, but Karukoski keeps Tolkien more grounded as a historical period piece. Additionally, the film's script showcases plenty of life-filled moments that would play an instrumental role in Tolkien's creative process. Those foundations act as the keystone thesis to make Tolkien's flow seem endearing and engaging to watch. Tolkien contains several nods and winks to the inevitable creation of author's beloved fantasy world of Middle-Earth. While most are not as outright as some fans would like, the film does feature several scenes that would serve as inspiration for the author's work.
Presentation-wise, Tolkien is an incredibly well-made film. Its overall look and feel were quite compelling to watch while also being quite pleasing to look at. The film's setting and era all feel appropriate within the time frame and is presented in a manner that feels genuine and believable for a more polished historical period piece biopic drama. The film's score was also quite good and in harmony with the story.
However, the easiest criticism that many will undoubtedly find while viewing the film is the simple fact it only covers half of Tolkien's life. The latter years of Tolkien's life are also significant while playing a vital role in the shaping in his creating of The Lord of Rings after the release of The Hobbit and the events that unfolded in Europe during WWII. The story creates broad strokes with Tolkien's experiences, hitting all the highs and lows within the film's run time. The feature attempts to cover a lot of ground but ends up shortchanging certain characters and events in the process. This made the film feel more like a standard, predictable and formulaic biopic.
Some LOTR fans might be disappointed by its lack of scale compared to the epic films based on the world Tolkien created. Perhaps one reason for this was the lack of involvement by the Tolkien Estate. The film doesn't make any clear cut references to certain characters and places from Tolkien's Middle-Earth but more or less makes subtle hints to certain influences that led to some of his creations which will surely leave diehard fans wanting more.
The plot may be a paint by numbers endeavor but the cast help to keep things interesting. At the center of the feature was Hoult who seems like a perfect match to play the titular English author. There's a sense of kind and gentleness to Hoult of which he imbues within his portrayal of Tolkien as well as an intellectually warmth and curious mind that's on display throughout the film. Hoult doesn't overact the role, but rather underplays Tolkien, making his portrayal quite endearing. While he probably won't get nominated for any awards for his performance, it was nevertheless solid. Following Hoult was Collins as who was equally good as Bratt, sharing a strong on-screen connection with Hoult, lending credence to her relationship with Tolkien. Coinciding with that, Collins captures a sense of thoughtful and passionate feeling within Bratt when set against Hoult's portrayal of Tolkien is quite enchanting.
A life of love, courage, and friendship lies at the heart of a young man's journey in Tolkien. The film examines Tolkien's formative years, revealing his past experiences and upbringing that ultimately shaped and inspired his prolific literary fantasy world. While the film doesn't make the kind of pronounced revelations to his creations as everyone would've wanted and does sometime fumble within its standard biopic structure, it genuinely felt like a labor of love to the author's early life. It's not as grand or epic as the LOTR films, but what was presented was quite sincere and well-made.
*still courtesy of Fox Searchlight*
---
I hope you enjoyed my review. If interested, head over to my blog Jason's Movie Blog to read more of my reviews. Also, follow me on Facebook and on Twitter @jasonmoviesblog
If you liked this, please read our other reviews here and don't forget to follow us on Twitter or Instagram or like us on Facebook.