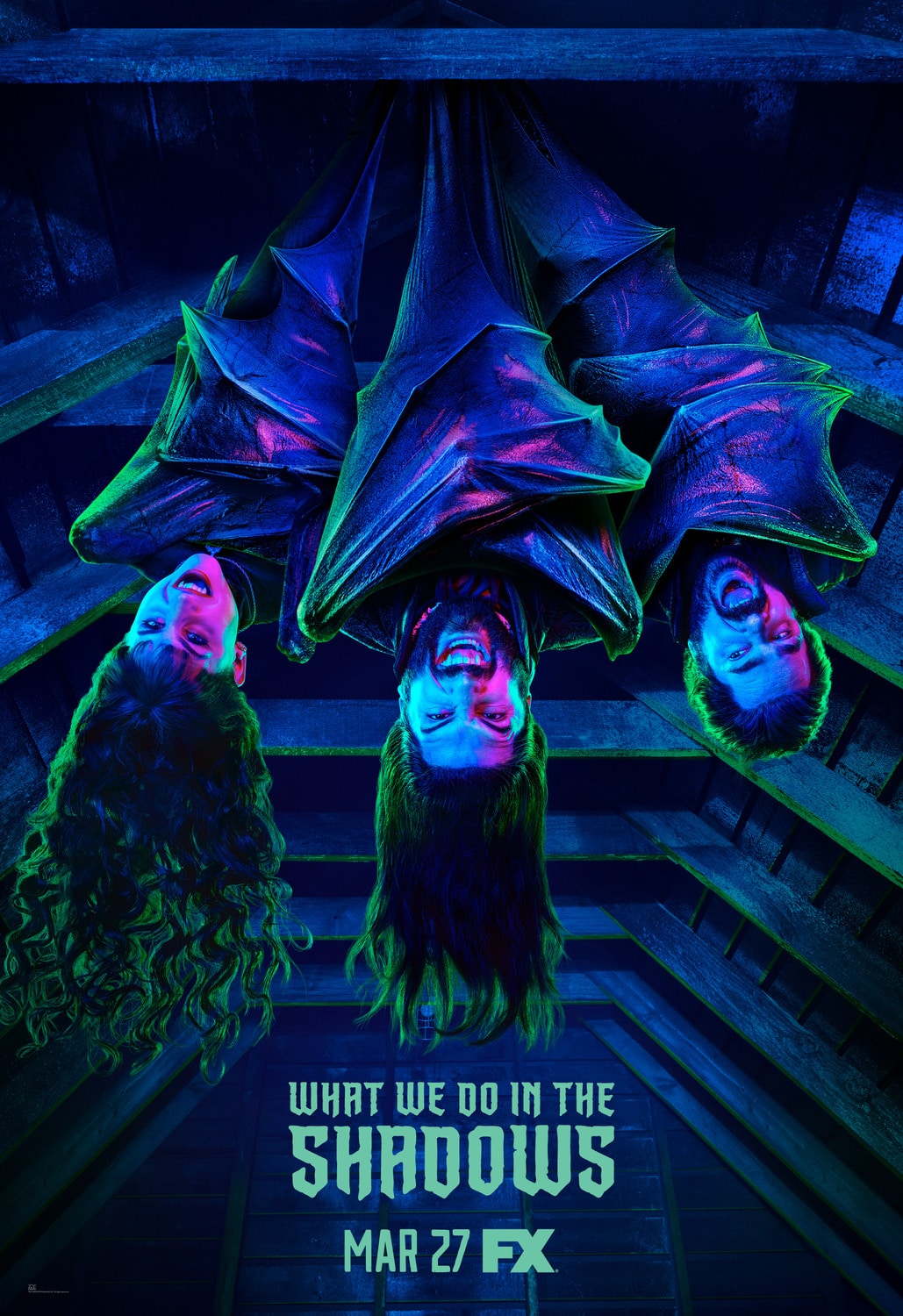 Director

Taika Waititi

Writers

Jemaine Clement, Stefani Robinson, Tom Scharpling, Paul Simms

Rating

TV-MA

Running Time

23 minutes

Airs

Wednesdays 10pm

Channel

FX Canada, FX
Rating Summary
In Ancestry, the season finale saw both Guillermo and Nandor explore their family history while Gregor's return leads to a beautiful addition to Lazlo's vulva garden.
For our review of the last episode of What We Do In The Shadows, click here.
Synopsis: Nandor visits one of his living descendants; a lover from Nadja's past reemerges. (IMDB)
Ancestry begins with Guillermo day-dreaming of what his life would've been like if he hadn't become Nandor's familiar. His dream is fairly typical with the end result being his ascension within the managerial ranks of the Panera Bread Co. But in-between his dreams of a life far removed from his own, Guillermo manages to secure DNA tests for all the vampires as well as himself with Nandor and Colin Robinson being the only two that want their results revealed.
To no surprise, Colin Robinson discovers that he is, in fact, 100% white, finally putting to bed the season long mystery all fans have wondered about. Nandor's results showed that he had over 200,000 living descendants, a far cry from Genghis Khan's 6 million as pointed out by Colin, with a convenient descendant, Madelyn, living in Staten Island prompting Nandor to pay her a visit.
With Colin and Guillermo as support, Nandor arrives at Madelyn's apartment and checks in on her from her second story window which startles the 94-year-old woman ultimately killing her. Out of respect and semi-guilt, Nandor drags the vampire crew to Madelyn's funeral mass being held in a church leading to the spontaneous combustion of Nadja, Lazlo and Nandor while Colin remained unharmed due to the church being a ripe feeding ground for emotions.
The secondary story of the episode centered around Nadja's reincarnated lover, Gregor, as he escaped from the mental hospital we last saw him in after being captured by the police several episodes ago. With a complete disregard for his life and others, Gregor made his away to Nadja's home in hopes of rekindling their timeless love affair only to be discovered by Lazlo who admitted to being the one across the ages that has seen to his decapitation in every form he has taken in order to protect Nadja from getting hurt by his flippant approach to her feelings.
It was a touching moment between the married couple that took a surprising turn as Lazlo declared his undying love for Nadja and desire to oversee her well-being at all costs which culminates in the revelation of his shrubbery sculpture of Nadja among his acclaimed vulva garden. The moment quickly passes as in keeping with tradition Gregor storms off angrily only to be decapitated into a metal wire placed to stabilize the shrubbery statue.
In an ironic turn of events, Guillermo opens his DNA results to find that he is a descendant of Van Helsing, the vampire hunter, which causes him to recount the vampire lives he's "accidentally" taken across the season as well as the many times he's unknowingly placed the vampire group in danger. As the episode draws to a close, his bloodline's abilities begin to emerge as he displays a knack for throwing wooden stakes at portraits of his beloved vampires, a foreboding omen of what might come in the next season.
Overall, What We Do In the Shadows' first season has had some truly hilarious episodes which has expertly showcased the talent surrounding this TV-to-Film adaptation perfectly. Being a huge fan of Matt Berry since his earlier work on Snuff Box and Toast of London, he has been great in every scene of this show and now there is a new hero to aspire to in Colin Robinson.
Even during its weaker episodes, WWDITS has still been able to provide several laughs and has never lead me to once entertain the idea of moving on from the show. The possibility of the show's future through its season two renewal will be exciting to watch as it will hopefully be able to explore the vampire world even further beyond Staten Island.
A big hope going forward for this reviewer is that through the summer months as less is premiering on television more people can discover and binge this show through FX because it is perfectly suited for that style of watch.
---
If you liked this, please read our other reviews here and don't forget to follow us on Twitter, follow us on Instagram, and also like us on Facebook.