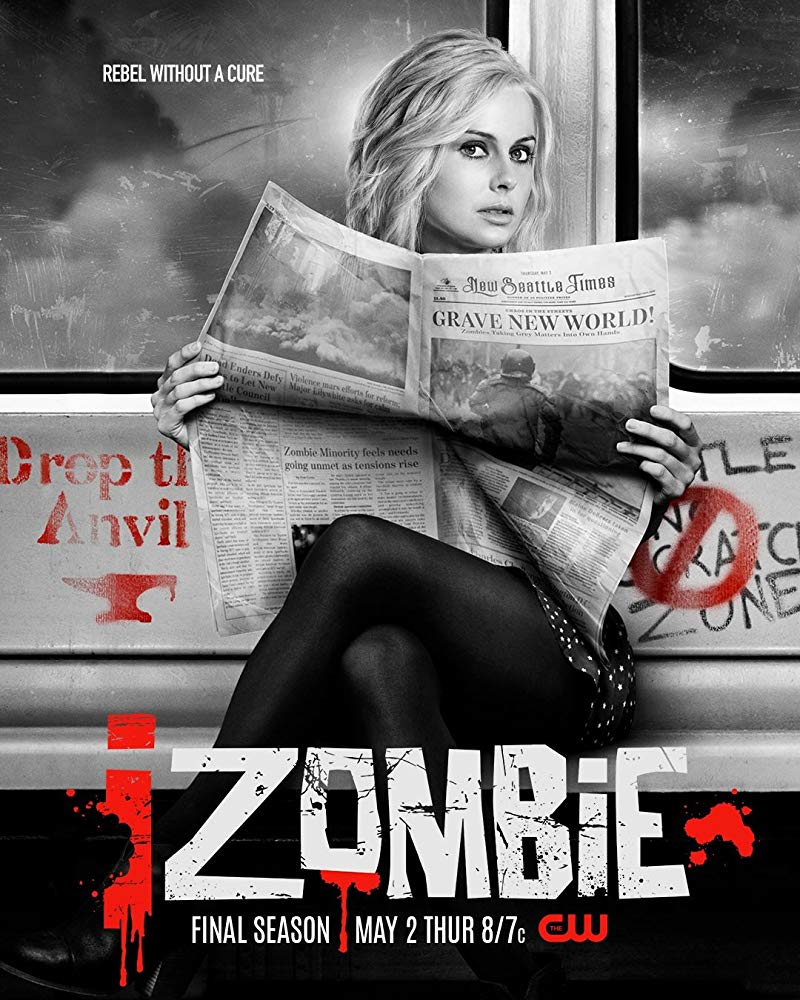 Director

Jude Weng

Writers

John Enbom, Kit Boss

Rating

TV-14

Running Time

42 minutes

Airs

Thursdays 8pm

Channel

The CW
Rating Summary
With Killer Queen, iZombie delivers a brutal but necessary twist to the final season, but what will it mean for Liv?
If you would like to read our review of the last episode of iZombie, click here.
Synopsis: Liv and Clive investigate the death of a drag queen, which leads Liv to eat and shift into the queen's brain; Ravi reaches out to Major with an interesting request. (TVGuide)
We last left off with Ravi and Liv stuck in Martin's basement full of zombies. Oh, and they found a batch of tainted Utopium, which we know is the necessary ingredient for the zombie cure. It has been great to watch Liv and Ravi's dynamic over the seasons and we are definitely going to miss that when the show ends in two weeks. They're friendship goals in every single way!
This week's case involves the murder of a drag queen named Mike who is the partial owner of the drag club he is found in. As the trio gets on the case, they learn that there is another drag queen who goes by the name "Bitchcraft" that is seeming like a possible suspect for the murder.
As they continue to investigate, Liv concludes that the stones on Bitchcraft's jacket are the exact same as the ones found back at the murder scene. Of course, when they go to interrogate Bitchcraft, he denies any involvement and points the finger at someone else. Luckily, this instigates a vision for Liv in which she sees Mike getting murdered by someone wearing a Cher wig.
As expected, the murderer ends up being Mike's co-partner of the club, Gary. That's not a surprise considering its always the person that gets interviewed first and denies it initially. Don't you just love that so many crime shows follow that pattern?
We can't forget that this final season has been revolving around Ravi and the Freylich brain kids and there are some major developments in this week's episode. Liv learns about a man named Edward who Blaine sold Freylich brains to. However, not long after Edward took the cure, his wife killed him. Ravi wants to know more about this particular cure and where it came from so he sends Major out to flirt with Edward's wife and find out some more information. Luckily, Major hands her a business card (with a tracker on it!) and follows her to the location she's at.
Following the wife leads Ravi and Major to a huge discovery–a truck with Freylich brain kids hiding inside of it. Not only do Ravi and Major save their lives, but they bring them back to the secret headquarters.
Another big plot twist in this week's episode comes with Liv finding out about the zombie extremists and how her father is involved. This happens after she learns everything from Graham, so has been secretly yet forcefully involved in their schemes. Liv calls Martin to ask him about this shocking news and he confirms that he intends on spreading the zombie virus however he can. He's rather stubborn about sticking to his plan, and much to Liv's surprise, before she can make him change his mind for good, he is shot and killed by Lambert. R.I.P Liv's dad, Martin.
And last but not least, poor Don-E doesn't exactly get the wedding he wanted, because before it can happen, his fiance, Darcy dies. Was it because he saw her in her wedding dress before he was supposed to? Perhaps we'll never know for sure.
Just two episodes of iZombie left! Who knows how they will wrap everything up because so much still feels unresolved. But with Martin's death, things are about to change drastically so here's to hoping we get the ending we all hope and want!
---
Check out my TV blog to read reviews, recaps, and much more! Be sure to follow me on Twitter, Instagram, and like my Facebook page! @watchwithreebs
If you liked this, please read our other reviews here and don't forget to follow us on Twitter, follow us on Instagram, and also like us on Facebook.